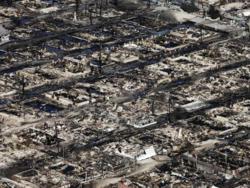 New York, U.S. (PRWEB) November 01, 2012
In the wake of the deadly hurricane Sandy's that has brought misery and devastation to East Coast of U.S. Syrian Expatriates Organization extends its deepest Sympathy to people hit by the hurricane, and offers helping hands to the rescue and recovery mission in affected communities.
As the worst of Super storm Sandy may be over, the aftermath devastation hasn't been fully uncovered. "Millions of people are still without power and tens of thousands are stranded in their properties due to flooding three days after Superstorm Sandy battered the US East Coast", Skynews report, added that the estimated business impacts and damages could be in billions, "Forecasting firm IHS Global Insight predicted it would cause $20bn in damage and $10bn to $30bn in lost business. Another firm, AIR Worldwide, estimated losses up to $15bn."
See: http://news.sky.com/story/1005399/superstorm-sandy-thousands-stranded-in-floods
While more deaths recorded overnight in New York City, which bring the death toll to 82 as reported by Chicago tribune, "At least 82 people in North America died in the superstorm" the needs for rescue mission increases and the extent of this catastrophe is, seemingly, beyond any expectation.
See: http://www.chicagotribune.com/news/chi-sandy-cleanup-20121101,0,3389292.story
Dr Mazen Hasan, SEO chairman, said, "We sympathize with people affected by hurricane Sandy's path. We believe that this is the time where people have to come together and extend their help to the maximum. Our organization is willing to contribute to the emergency humanitarian and financial recovery efforts in areas declared as disastrous. We are in contact with our members in those areas and willing to volunteer in rescue missions, provide financial aid, donate blood, and contribute to all efforts to alleviate the suffering. Our thought and prayers goes to all people affected by the path of this natural disaster, and to our people in Syria who have been experiencing similar unnatural catastrophic situations, provoked by Assad regime for over 20 months."
SEO extends its condolence to families who lost loved ones, expresses its full sympathy and support with millions of people affected.