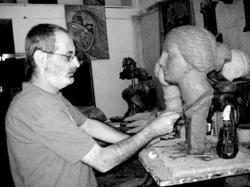 Homs, Syria (PRWEB) July 26, 2012
"Village of Marmarita had dressed in black last Sunday, in a grieving over the martyrdom of their son Wael Kaston, the Syrian sculptor. Kaston was detained in a secret force branch in Homs, and died under torture. His family received his body from the military hospital in Homs. Lot of people has participated in his funeral from Marmarita and neighboring villages." Reported by Syrian revolution coordination, and iterated by Dar Alhayat on July 24th. SEO condemns the barbaric killing of the Wael Kaston, and extends its condolence to his family and friends.
http://alhayat.com/Details/421110
According to Arabiya news, Wael Kston was born in "Marrmarita" in 1966, Christian, married to "Eva Allati" and has two sons, participated in many art galleries in "Homs" and had exhibitions in 2009 in Homs Fine Art Gallery, also held an exhibition in 2010 and another one in Marmarita in Homs in 2011. His works centered on sculpture that refer to freedom of women.
http://www.alarabiya.net/articles/2012/07/25/228211.html
Once said in an interview that "he would not prefer to work with 'stone' but loves 'mud' and 'wood'. The first is the human-being because we emerge from mud, and will end in mud; and the "wood" because it is the closest to us, born gently, reach adolescence vigorously, die wisely ..."
SEO is outraged by the insistence of the Assad regime to systematically silence the other voices, relying in that, on the failure of the international community to adopt any actual resolution that will bring an end to the brutality that people across Syria from all areas, sects, religions faced.
SEO believes that the death of the prominent sculptor, the Christian Syrian, wael kaston, under torture refutes the regime's repeatedly claim that they protect the minorities.
The Syrian Expatriates Organization is a leading nonprofit organization of Syrian Americans and Syrian Canadians that reflects the diversity and talent of the Syrian nation. Its mission is to support the establishment of a free and democratic Syria. In addition, the SEO provides humanitarian relief to those in need and works to promote the social, political and economic development of Syria.