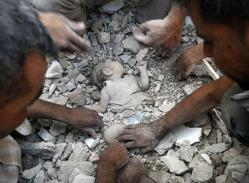 (PRWEB) August 17, 2012
In the wake of the massacre in Azaz, committed by Assad air forces, SEO demands an immediate adoption of "No Fly Zone" by the United Nation Security Council.
According to the Huffington post, "warplanes exacted a heavy toll with airstrikes on a residential neighborhood in the rebel-held town of Azaz close to the Turkish border. International watchdog Human Rights Watch said more than 40 people were killed and at least 100 wounded, many of them women and children. AP reporters saw nine bodies in the bombings' immediate aftermath, including a baby.' In a comment over the scene, Anna Neistat, acting emergencies director of Human Rights Watch, said, "This horrific attack killed and wounded scores of civilians and destroyed a whole residential block," "Yet again, Syrian government forces attacked with callous disregard for civilian life."
http://www.huffingtonpost.com/2012/08/16/syria-azaz-airstrikes_n_1789156.html
As reported by Reuters, "Washington has said it has noted an increasing use of air power in the conflict" furthermore said" but U.S. Defense Secretary Leon Panetta suggested on Tuesday the Pentagon was not seriously considering a no-fly zone similar to the one that helped Libyan rebels topple Muammar Gaddafi."
http://www.reuters.com/article/2012/08/17/us-syria-crisis-azaz-idUSBRE87F18H20120817
SEO Board member, Mr.Abdulla Ibraheem, said" While the international community continues their inaction in Syria, Assad regimes intensified the military campaign, with more frequent airstrikes all across the country. The recent hideous massacre in Ezaz was another outcry in the face of humanity. The images of children's remains recovered from the rubble are appalling, they are just an additional proof of world's incompetence to stop Assad's atrocities. We ask the international community and the United Nation to protect Syrian civilian, and adopt the 'No Fly Zone' it becomes a necessity in light of the recent barbaric aggression of Assad forces."