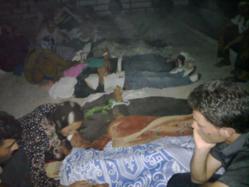 Hama, Syria (PRWEB) July 13, 2012
Syrian Expatriates Organization (SEO) is outraged and deeply saddened by the massacre of over 220 civilians in Tremseh, a small village near the city of Hama.
The village was bombarded by the Assad army with heavy artillery, including helicopter gunships and tanks, before being invaded by militiamen loyal to Assad who continued the slaughter of civilians through summary executions.
(SEE: Syrian Army Shelling Kills at Least 200 in Tremseh http://www.bbc.co.uk/news/world-middle-east-18823303)
"More than 80 people were killed when artillery shells landed on the mosque and school where residents were seeking shelter," said Abu Ghazi, a spokesman for the Revolutionary Council of Hama in a statement to SEO. "Eyewitnesses then saw 30 large trucks filled with soldiers and miltiamen entering the village, along with tanks. Entire families were summarily slaughtered, men, women, children and elderly. No one was spared. Tremseh is a small village of only 7,000 people. More than 220 people were killed in the massacre."
Abu Ghazi also stated to SEO that only "30-40" members of the Free Syrian Army were in the village when the assault occurred. "They tried to make safe-passage routes for residents to flee, but they were short on ammunition, and most of them were killed," he told SEO.
"We are witnessing one of the most brutal dictatorial regimes in modern history as it continues to massacre innocent civilians at will, while the world stands paralyzed," said Dr. Iyad Azrak, SEO Chairman. "With the carnage now rivaling that of Bosnia and Rwanda, we demand that the international community take decisive steps to stop the genocide in Syria."
The Syrian Expatriates Organization is a leading nonprofit organization of Syrian Americans and Syrian Canadians that reflects the diversity and talent of the Syrian nation. Its mission is to support the establishment of a free and democratic Syria. In addition, the SEO provides humanitarian relief to those in need and works to promote the social, political and economic development of Syria.