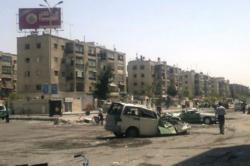 (PRWEB) August 12, 2012
The Syrian Expatriates Organization (SEO) is dismayed by the many reports of pro-Assad forces targeting Palestinian refugees within Syria. According to the New York Times article published August 3," Palestinian refugee camps across Syria have been subject to air raids, shelling and indiscriminate sniper fire over the course of the 17 month conflict. There are currently 500,000 Palestinian refugees inside Syria. "
Many pro-democracy protests within Palestinian refugee camps have been squashed by pro-Assad thugs and there have been many instances of the regime targeting refugee camps using heavy weaponry, planes and warships. Most recently, pro-regime forces targeted a Palestinian refugee camp outside Damascus killing 20 civilians and wounding dozens. SEO is saddened by these reports. SEO condemns any and all attacks against civilians by pro-Assad forces, especially attacks against Palestinian refugees whom the international community has charged the Syrian government in protecting. The al-Assad regime has historically claimed to be an advocate for Palestinian rights and has received millions of dollars in international aid to help with the costs of supporting such a large refugee community within its borders.
SEO believes that the recent massacres against Palestinians in Syria point to the regime's historical hypocrisy and prove the point that the current regime does not stand for Palestinian rights or the rights of its own people. SEO asks the international community to provide aid to both Syrian and Palestinian civilians inside Syria and protect these civilians from al-Assad's brutality.
http://www.nytimes.com/2012/08/04/world/middleeast/syria-assault-palestinian-camp-damascus.html
http://www.huffingtonpost.com/2012/07/26/syria-crisis-palestinians_n_1707488.html