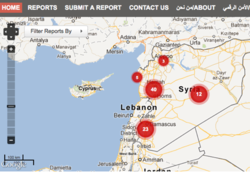 Washington, DC (PRWEB) September 17, 2012
The Syrian Expatriates Organization (SEO) in partnership with the Coalition for a Democratic Syria will hold a panel discussion on the impact and ramifications of violence and human rights abuses against Syrian women in the current conflict, and strategies to empower women in post-Assad Syria.
Women during wartime are vulnerable targets often used as a means to perpetrate psychological warfare, and Syria is no exception. During the last 18 months, women in Syria have been subjected to all types of brutality, including suppression, exposure to violent warfare, kidnapping, systematic rape, torture, and unlawful detention. Several international and human rights organizations have been active in collecting evidence of violations against women and documenting and disseminating them through periodic reports.
http://www.reuters.com/article/2012/06/15/us-syria-crisis-detention-idUSBRE85E0HL20120615
Who:
Lauren Wolfe, the director of WMC's Women under Siege, a project on sexualized violence in conflict, and an award-winning journalist. In July 2012, Wolfe testified at the United Nations on her team's findings on rape in Syria. She also serves on the advisory committee of the Nobel Women's Initiative International Campaign to Stop Rape & Gender Violence in Conflict.
Karestan C. Koenen, M.A., Ph.D. Associate Professor-Department of Epidemiology, Mailman School of Public Health; Columbia University where she does research and teaches about psychological trauma and posttraumatic stress disorder. She testified about best-practices in response to victims of sexualized violence at the full House Foreign Affairs Committee Hearings, Peace Corps at 50. Dr. Koenen is also President-Elect of the International Society of Traumatic Stress Studies.
Rasha Al-Ahdab, Co-founder of Syrian Women for Syria; founder and board member of Syrian Expatriates for Democracy. She is also a member of the Secretariat in the Syrian National Assembly and a member of the law office of the Syrian National Council.
Rafif Jouejati, Chairperson of the NGO "Free Syria: Foundation to Restore Equality and Education in Syria". Spokesperson for the Local Coordinating Committees in Syria. Member of the Executive Committee of "The Day After Project."
Dr Nour Akhras, M.D. member of the Syrian American Medical Society- SAMS- a nonprofit organization that helps in the humanitarian and medical needs of Syrians.
When:
Friday October 5th -2012 at 12:00-3:00
Where:
The National Press Club
529 14th Street Northwest
Washington, DC 20045
Syrian Expatriates organization is a broad and diverse group of Syrians living in the US and Canada working to support the establishment of a free and democratic Syria
Please RSVP
sawsanjabri(at)hotmail(dot)com
rasha(dot)othman(at)syrian-expatriates(dot)org