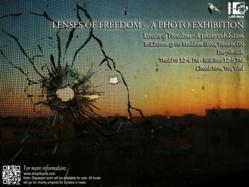 Toronto, Canada (PRWEB) November 16, 2012
Syrian expatriates Organization presents 'Lenses of Freedom' exhibition in Toronto, featuring the work of Syrian photographers, telling the story of the Syrian Revolution through photographs. Lenses of Freedom will be held in Beit Zatoun– 612 Markham Street, Toronto - from December 7th - 16th and will open from 12:00 pm to 5:00 pm, excluding Monday, Tuesday and Wednesday. The exhibition opening event will take place on December 7th at 7-9 PM. Funds raised from the sales of the art work will help to alleviate the humanitarian crisis in Syria. The exhibition is sponsored by the Syrian Expatriate Organization (SEO).
Describing the exhibition in more detail, Maher Azem, SEO membership committee and exhibition coordinator, said; "'Lenses of Freedom' demonstrates the remarkable work of an exceptional group of Syrian photographers, who risk their lives to capture images that portray the Syrians' struggle for freedom." Pointing out to the extreme challenges and dangers of this project, Azem stated that "some of those photographers have been subjected to detention and torture, while others have lost their lives trying to document the indiscriminate shelling and shooting of innocent civilians. To date, three photographers from the group 'Lens of a Young Syrian' have lost their lives: Zouhair AlShaher, Molham Bairam, and Ahmad Salam." Explaining the mission of the exhibition, Azem said; " The mission of exhibiting the work of those photographers is to spread the stories of the Syrian revolution through photographs shared via social media websites such as Facebook and Twitter."
SEO extends an open invitation to all local communities to participate in the opening event of "Lenses of Freedom". SEO views the exhibition as an opportunity to illustrate the suffering of Syrian people, and a powerful mean to convey the truth and expose the brutality of Syrian regime to the world.
The Syrian Expatriate Organization is a leading non-profit organization of Syrian North Americans, who reflect the diversity and talents of the Syrian nation. Its mission is to support the establishment of a free and democratic Syria. In addition, the SEO provides humanitarian relief and promotes the social, political and economic development of Syria.
The artwork will be available for purchased online: http://www.shop4syria.com.
For follow up, please contact:
Maher Azem:
647-298-1982
maher (dot) azem (at) gmail (dot) com
Sahel Zreik
647-388-0115
Sahelzk (at) gmail (dot) com