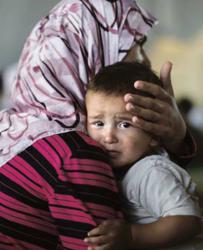 Washington DC (PRWEB) November 05, 2012
While the protection of children in time of war is an integral component of the International humanitarian law adopted by Geneva Conventions and additional protocols, Syria's children have been left facing the unimaginable and in need of protection and health care for over 20 months.
See: http://www.icrc.org/eng/resources/documents/misc/57jmat.htm
Addressing a media briefing in Geneva, a spokesperson for the UN Children's Fund (UNICEF), Marixie Mercado, reported that, according to local health officials, the crisis to impact infant care in Syrian hospitals, particularly among newborns, "Health workers said many babies had died because there were not enough incubators," Ms. Mercado warned that the stress of the fighting was especially having a damaging effect on expectant mothers. She stated that mothers were delivering earlier and that many were also miscarrying while hospitals were experiencing a two-fold increase in the number of Caesarean sections when compared with the same period last year.
See: http://www.un.org/apps/news/story.asp?NewsID=43406&Cr=unicef&Cr1#.UJRMa4b3NUa
Dr Bakr Ghbeis SEO board member, said" based on our inputs from medical practitioners in Syria, we can infer a severe public health crisis affecting all health sectors. Our major concern remains on children and women as they are the most venerable section of the society. There is serious lack of basic medical supplies and equipments, extreme shortage of vaccinations and medications, dearth of blood supplies and donation. Additionally, conditions to maintain normal health are extremely deteriorated, poor nutrition, poor water sanitation, and higher exposure to toxic chemical in the air, are just few to list." Dr Ghbeis expect that," The effects on children and women will be intergenerational that will last for years ahead, and impels an urgent facilitation of humanitarian assistance to ensure that the health infrastructure of children and women is restored adequately."
SEO demands an urgent implementation of plan adopted by UNICEF to maintain the health of children in Syria and promote their protection during this critical time.