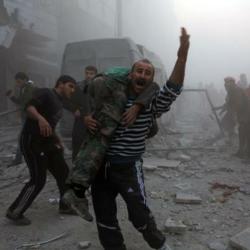 Washington DC (PRWEB) November 23, 2012
Al-Shifaa hospital was targeted by a government airstrike, causing extensive damage and casualties. According to CNN, at least 40 people have been killed, including two nurses. Al-Shifaa had been functioning as a key hospital in the besieged city of Aleppo, which has been under military bombardment for the past several months.
SEE: http://edition.cnn.com/2012/11/21/world/meast/syria-aleppo-hospital/
The hospital was previously targeted in August 2012 when Syrian government airforces fired rockets, wounding two civilians and destroying the maternity ward. SEO and UOSSM view this atrocity by Assad regime as a proof of no respect for human life by deliberately targeting people in need of medical care and medical staff and consider this offensive act as a blatant violation of the international law, that states, "All hospitals, whether civilian or military, are specially protected under international humanitarian law, known as the laws of war. They may not be targeted, even if being used to treat enemy fighters. Under the Geneva Conventions, hospitals remain protected."
SEE: http://www.hrw.org/news/2012/08/15/syria-fighter-planes-strike-aleppo-hospital
"It is quite shocking news, I was working there just 3 weeks ago along with my colleagues from CRS, SEO and SBMS coming from all around the world to help," said Dr. Anas Al-Kassem, SEO representative to UOSSM. Explaining the consequences of the recent attack on al-Shifa hospital, Dr. Al-Kassem said, " al-Shifa Hospital was the most crucial hospital for wounded in the center of Aleppo. I remember one time, we received more than 60 wounded patients in just one day; it was the same day when Assad forces attack civilians waiting at bakery site. Sadly, today the same hospital that had received those patient, has been targeted and fell on its own doctors. According to my colleagues in Aleppo, they confirmed the death of one doctor and one registered nurse, in addition to physician assistant, in addition to many patients. And still they are removing bodies under the rubble," said Al-Kassem.
"We condemn this atrocity and demand the Assad regime be held to account for targeting innocent civilians and destroying one of the few medical facilities that was providing critical services to Syrians in dire need of medical attention," Al-Kassem said.
The Syrian Expatriates Organization is a leading nonprofit organization of Syrian Americans and Syrian Canadians that reflects the diversity and talent of the Syrian nation. Its mission is to support the establishment of a free and democratic Syria. In addition, the SEO provides humanitarian relief to those in need and works to promote the social, political and economic development of Syria.