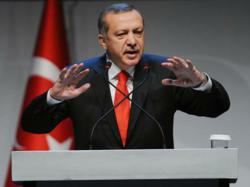 (PRWEB) October 15, 2012
The Syrian Expatriates Organization (SEO) supports Turkish Prime Minister Tayyip Erdogan's call for action against Syrian dictator Bashar al-Assad. Ergodan recently rebuked the UN Security Council for its inaction and accused the UN of making the same mistakes it made during the events surrounding the massacre in Srebenica. The Syrian Expatriates Organization believes that the UN and Western governments must do more to protect the Syrian people.
See:http://www.reuters.com/article/2012/10/13/us-syria-crisis-idUSBRE88J0X720121013
Dr Waleed Brinjikji, SEO-PR committee, said," For over a year-and-a-half the UN Security Council has been in a deadlock over the Syrian Crisis with China and Russia blocking any punitive measures against Bashar al-Assad's government. Russia, having provided Assad with over $1 billion in arms over the past year is refusing to stop supporting Assad and has recently been caught using civilian planes as a means to illegally transport weapons to Assad's army. With Western governments essentially abandoning the Syrian people, the Turkish government has taken a leadership role in supporting the aspirations of the Syrian people."
SEO thanks Turkish Prime Minister Tayyip Erdogan for rebuking the United Nations for failing to act on Syria.
" Mr. Erdogan's comparison of current events to those surrounding the massacres in Bosnia is timely and should give the international community pause. The current conflict has claimed the lives of nearly 40,000 civilians and if no action is taken, the crimes of Assad will eclipse those of the likes of Milosevic. The international community said "never again" after the Holocaust and "never again" after Srebenica. It is time the world finally learns from the mistakes of the past and stops Assad from massacring his people." said Dr brinjikji
SEO hopes the international community reflects on Erdogan's call to action. For each day Assad stays in power, another 100 Syrians are losing their lives.