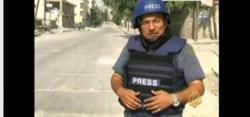 (PRWEB) August 01, 2012
The Syrian Expatriates Organization (SEO) expresses its gratitude to Al-Jazeera journalists for their heroic measures in covering the war in Syria. Al-Jazeera correspondent Omar Khashram was recently injured by mortar fire while covering the ongoing battles in Aleppo between pro-democracy rebels and pro-Assad forces. Mr. Khashram is currently in stable condition.
http://www.washingtonpost.com/world/middle_east/colleague-says-al-jazeera-correspondent-wounded-in-syria-taken-to-turkey-for-treatment/2012/07/30/gJQAZUtVKX_story.html
SEO Board member, Dr Bakr Ghheis, said, "Omar Khashram is one of many journalists who have been injured or killed while on duty in Syria during the 17 month conflict. Bashar al-Assad's regime has sought to ban foreign journalists from entering Syria in a measure to keep the outside world from finding out what is happening inside. Many journalists such as Khashram have risked both life and limb to give the outside world a window into Syria."
SEO believes such heroic work is essential to putting an end to Bashar al-Assad's tyrannical rule. SEO is hopeful that once freedom and democracy prevail over Syria, journalists such as Mr. Khashram will be able to work freely in Syria without fear of being injured or killed in the line of duty. SEO wishes Mr. Khashram a full and speed recovery, we hopes Mr. Khashram and his family are doing well.
SEO emphasizes that, journalist Omar Khashram is not alone in his sacrifices made in covering the atrocities in Syria. Anthony Shadid, Marie Colvin, Giles Jacquier, Ferzat Jarban, Remi Ochlick, Ali Juburi al-Kaabi and Falah Taha are just some of the journalists who have paid the ultimate price in pursuit of the truth in Syria.
The Syrian Expatriates Organization is a leading nonprofit organization of Syrian Americans and Syrian Canadians that reflects the diversity and talent of the Syrian nation. Its mission is to support the establishment of a free and democratic Syria. In addition, the SEO provides humanitarian relief to those in need and works to promote the social, political and economic development of Syria.