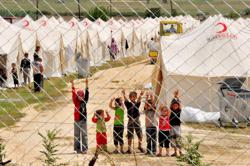 (PRWEB) July 18, 2012
SEO would like to thank the CBS news for their special report "Syria's youth traumatized by violence" which was filmed in the refugee camp in Turkey, reflecting the suffering of children and youth in the Syrian struggle for freedom and dignity.
SBC reporter, Clarissa Ward, has visited the refugee camp recently, highlighted the impacts of the Assad war against people in Syria over the younger refugees, "For 16 months now, Syria's dictator has waged war on his own people to crush a rebellion. Thousands have died and others have fled the country. We visited some of the youngest refugees across the border in Turkey." In her report, she mentioned that, "More than 1,400 children have been killed inside Syria. Many more have been maimed. And a United Nations report says boys as young as 10 have been detained and tortured." She quoted true life stories of the children sufferings, "A 2-year-old boy wakes up every morning in his Turkish hospital bed crying for his mother. She is injured and stuck inside Syria."
http://www.cbsnews.com/8301-18563_162-57471458/syrian-refugee-children-caught-in-the-crossfire/?tag=currentVideoInfo;videoMetaInfo
SEO member and Pediatrician, Dr Yahia Rahim, said, "Children and youth in the refugee camps are expected to suffer from long term psychological trauma, especially, those who lost one or both of their parents. The consequences of the Assad regime brutality and aggression on children will be more evident than adult, due to inability to comprehend the lost of parent, siblings, relatives, friend, schoolmate, or even the loss of their toys, or any personal item."
SEO considers that protection of children in the wartime is a responsibility on the international community represented by United Nation and the UNICEF. SEO urges the refugee international Organization, the humanitarian and medical organization to approach Syrian children in the refugee camps and other devastated areas across Syria, to provide them with the necessary medical and psychological support.
The Syrian Expatriates is a leading nonprofit organization of Syrian Americans and Syrian Canadians that reflects the diversity and talent of the Syrian nation. Its mission is to support the establishment of a free and democratic Syria. In addition, the Syrian Expatriates provides humanitarian relief to those in need and organizes and sponsors efforts to support the social, political and economic development of Syria.