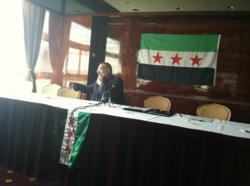 NewYork City (PRWEB) August 10, 2012
SEO expresses their gratitude to Father Paolo for sharing his insight on the realities on the ground in Syria, the role of minorities in the revolution and strategies to ensure national reconciliation after the fall of the Assad regime.
Father Paolo, a Roman Catholic priest was expelled from Syria by, his home of 30 years, after he offered his monastery, Deir Mar Musa, for an interfaith memorial service in remembrance of Bassel Shehade – an activist filmmaker who was murdered in Homs by a regime sniper.
Near the conclusion of a 2-week North America tour, Father Paolo shared in a press conference on Monday August 6, by the United Nations, his perspective as a witness to the regime's brutality and the militarization of the resistance: "We have a real revolution that was obliged to defend itself".
Following the press event, in a national statement distributed through the National Alliance for Syria (NAFS) and other Syrian-American organizations, Father Paolo answered whether there would be any hope for reconciliation in a post-Assad Syria: "The answer is, quite clearly yes - however all of us Syrians must work in our hearts to keep reconciliation as the aim of our action, knowing there is no possible reconciliation without the pursuit of a pluralist democracy, and respect for human rights. These are the platforms on which future harmony will exist, through recognizing each other's values." However, he acknowledged the difficulty of such a process, "It is evident that this deep attitude of reconciliation is difficult and painful, especially for those who are directly victims of violence. Justice however will need to be re-established through internationally guaranteed fair trial and not through personal revenge."
Commenting on the role of minorities in Syria, he states: "the country is a nation of minorities, and all people regardless of faith, ethnicity or ideology are crucial to building a new Syria."
Father Paolo then called for renewed efforts within the United Nations to support the Syrian people in their time of need: "As we stand in New York City, we ask the UN to work side by side with the Syrian people in the fight for freedom and harmony. UN soldiers from non-aligned nations should assume direct responsibility to protect the endangered civilians in those parts of the country where massacres are occurring and where inter-communal conflict is growing".
Link to full statement by Father Paolo: http://bit.ly/NnfsOc
Link to UN Press Conference with Father Paolo: http://bit.ly/NdpPYk
Recent coverage: http://world.time.com/2012/08/08/out-of-syria-an-expelled-italian-priest-calls-for-peace-and-reconciliation/
SEO shares father Paolo's vision on the reconciliation in Syria based on unity of "One Syria" and justice for the victims of Assad crimes, which relies mainly on the complete ouster of Assad regime, including the systems of security forces, and the death squads, who will be held accountable for their crimes.
SEO believes that Syria has the longest history in the world of pluralist coexistence, and Syrians are capable to restore their bright history again.