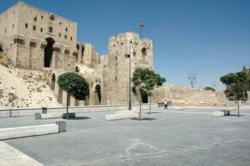 Aleppo, Syria (PRWEB) July 30, 2012
Following the unprecedented level of retaliation by Assad military forces against Aleppo, Syrian Expatriates organization is extremely concerned about the world heritage site of Aleppo and the other precious cultural heritage of the city. SEO reiterates the UNESCO Director-General's call for all parties to respect and protect Syria's great cultural legacy, which constitutes a source of identity and fulfillment for its people, and to abide by their international obligations in the area of culture.
http://whc.unesco.org/en/news/915/
The Ancient City of Aleppo has been inscribed on the World Heritage List of UNESCO since 1986, as it "reflects the rich and diverse cultures of its successive occupants" and is "an outstanding example of an Ayyubid 12th century city with its military fortifications constructed as its focal point following the success of Salah El-Din against the Crusaders."
http://hetq.am/eng/news/17045/icomos-issues-warning-about-aleppo%E2%80%99s-cultural-heritage.html
SEO Chairman, Dr Iyad Azrak, said "Our major concern in the current Assad military campaign against Aleppo remains mainly about the safety of our people in Aleppo and the strategies to alleviate the humanitarian crisis there; however, given the unique history of the ancient city of Aleppo, and the barbaric behavior of Assad regime, we believe that there is an urgent need to call for protection of the ancient sites, the citadel of Aleppo, and the museums with the cultural antiquities. We hold the Syrian regime the full responsibilities for the protection of these sites and antiquities, and we urge the UNESCO to ensure their safeguard."
The Syrian Expatriates is a leading nonprofit organization of Syrian Americans and Syrian Canadians that reflects the diversity and talent of the Syrian nation. Its mission is to support the establishment of a free and democratic Syria. In addition, the Syrian Expatriates provides humanitarian relief to those in need and organizes and sponsors efforts to support the social, political and economic development of Syria.