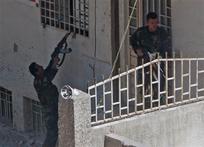 (PRWEB) March 22, 2012
The Syrian Expatriates welcomes the recent UN Security Council unanimous statement endorsing joint UN/Arab League envoy Kofi Annan's six-point diplomatic plan. However, it maintains serious concerns regarding the plan's efficacy.
In the statement, the Security Council expressed "its full support for the efforts of the Envoy to bring an immediate end to all violence and human rights violations, secure humanitarian access, and facilitate a Syrian led political transition to a democratic, plural political system, in which citizens are equal regardless of their affiliations or ethnicities or beliefs, including through commencing a comprehensive political dialogue between the Syrian government and the whole spectrum of the Syrian opposition this aim, the Security Council fully supports the initial six-point proposal submitted."
The Syrian Expatriates agrees with Secretary of State Hillary Rodham Clinton in describing the endorsement statement as a "positive step."
Syrian Expatriates spokesperson, Sarab Al-Jijakli, states: "In the face of the soaring oppression and the daily atrocities against our people by the Assad regime, we welcome any and all efforts that would stop the bloodshed, including UN Envoy Kofi Annan's diplomatic plan. However, the plan refrains from demanding that Bashar Assad step down, which at this phase of the Syrian uprising, has become a necessity for any realistic proposal to end the crisis. It also fails to acknowledge the massive bloody crackdown by the Assad regime and merely asks for the cessation of 'violence.'"
Syrian Expatriates board member, Louay Sakka, added: "Knowing the misleading and manipulative behavior of the tyrannical Assad regime, we are not optimistic that this plan will achieve its goals. In addition, the language used in the statement is ambiguous, and so we have concerns that it could be interpreted differently by the Assad regime."
Syrian Expatriates expresses the urgency that the UNSC adopt a resolution that demands that Assad step down and hand power to a unity government from all opposition groups as a starting point for serious peaceful diplomatic solution for the crisis.
The Syrian Expatriates is a leading nonprofit organization of Syrian Americans and Syrians living in the U.S. that reflects the diversity and talent of the Syrian nation. Its mission is to support the establishment of a free and democratic Syria. In addition, the Expatriates provides humanitarian relief to those in need and organizes and sponsors efforts to support the social, political and economic development of Syria.
For more information regarding Syrian Expatriates, please visit our website: http://www.syrian-expatriates.org
http://www.nytimes.com/2012/03/22/world/middleeast/in-moment-of-unity-security-council-endorses-plan-to-halt-syria-conflict.html?_r=1
http://www.washingtonpost.com/world/national-security/un-security-council-endorses-annans-peace-plan-for-syria/2012/03/21/gIQAnuB3RS_story.html