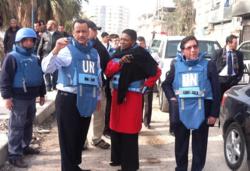 (PRWEB) February 11, 2013
UOSSM is deeply concerned by the unfair and imbalanced distribution of international humanitarian and medical aids between the Syrian government and the opposition, as reported by recent MSF report; "international aid provided to Syria is not being distributed equally between government and opposition controlled areas. The areas under government control receive nearly all international aid, while opposition-held zones receive only a tiny share."
See: http://www.msf-me.org/en/news/news-media/news-press-releases/syria-msf-criticizes-aid-imbalances.html
UOSSM reiterates Dr. Marie-Pierre Allié, president of Médecins Sans Frontières (MSF) "The current aid system is unable to address the worsening living conditions facing people who live inside Syria," and supports her call to the participants in the Kuwait City conference to acknowledge the legitimacy of cross-border humanitarian operations intended for Syria and grant them the financial, administrative and logistical support they require.
While UOSSM acknowledges the difficulties associated with providing medical care to people in dire need due to the ongoing indiscriminate targeting of medical facilities and personnel; UOSSMS stresses the importance that the international organization being granted an access to areas under siege or annihilated with trapped civilians inside or areas controlled by the opposition, in order to evaluate their needs closely and provide the necessary medical and humanitarian supplies accordingly.
http://www.voanews.com/content/un-struggles-to-provide-medical-care-for-syrians/1597647.html
"Reorienting international relief efforts into its real destination is a major issue for Syrian people in need." Dr Tawfik Chamaa, spokesperson of the UOSSM said, "Since the Syrian government is losing control on more than 40 to 70% of territories, the international community couldn't keep considering it as the sole avenue to distribute aid through its 'safe zones'" Dr Chamaa stresses the critical role, the Syrian relief organization could have " Syrian People in dire need are mainly on the other side of the front lines, and Syrian led relief organizations should be trusted as an alternative to the Syrian government, since they are risking their lives to channel these needs to reach thousands of (IDP: Internally Displaced Persons) and daily targeted people who are under siege."
UOSSM urges the UN to reconsider their distribution plans and avenues in Syria , and to create channels that will insure a fair and equal delivery of humanitarian and medical aids to people in needs.
The UOSSM is a humanitarian, non-governmental, independent organization, created following the deadly events in Syria, to provide medical and humanitarian aid to Syrian. UOSSM was established by 14 medical and relief organizations, and includes hundreds of physicians of mainly Syrian origins distributed in the United States, Canada, in Europe and in different Arab countries.