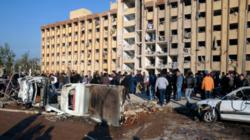 Washington, DC (PRWEB) January 16, 2013
More than 83 people were killed and 150 wounded in twin explosions near the University's dorm in Aleppo. The attacks came as students were sitting for final exams, according to WSJ in a report published on January 15th 2013, and added that, Assad regime has been attempting to place blame on the rebels, however, evidence and past behaviors of the regime would indicate otherwise.
Reports have stated that "The scale of destruction in videos shot at the site suggested more powerful explosives had been used than the rockets the rebels are known to possess." In addition, the area surrounding the University is controlled by the regime, and FSA fighters have not been able to enter. The Local Co-ordination Committees (LCC), an opposition activist network, posted a link to an online video which shows warplanes bombing the campus.
"It is devastating; we are shocked by this unprecedented crime targeting the university campus and dormitories, while students were taking their final exams," said SEO Board Member Dr. Iyad Azrak. "For the past 2 years, the Assad regime had proven time after time his insistence on targeting innocent people through shelling and airstrikes, massacring people waiting in line for bread, at gas stations, kindergartens, worship places, hospitals, and now universities. Unfortunately, Assad's atrocities were promoted by international impunity," said Azrak.
SEO expresses deep grief over the loss of 83 innocent lives, and extends condolences to victim's families. SEO believes that the protection of Syrian civilians mandates the removal of Assad and his regime.
SEE: http://online.wsj.com/article/SB10001424127887324235104578243282594809550.html
SEE: BBC: Dozens killed by Aleppo University Blasts http://www.bbc.co.uk/news/world-middle-east-21029034