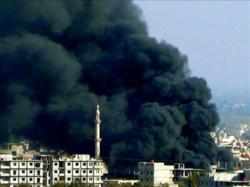 Washington, DC (PRWEB) December 21, 2012
On December 16th 2012, Assad forces warplanes blasted the Palestinians refugee camp, Al Yarmouk in Damascus and killed at least 25 people, who were sheltering in a mosque, as reported by France24.
"Yarmouk camp, where the attack took place, has steadily been drawn into the conflict in Damascus over the past month," reported the Guardian.
According to Reuters, most of the camp residents had fled the area, seeking safer place. "We walked out on foot without our belongings until we reached central Damascus. We got in a taxi and drove straight for the border," said 75-year-old Abu Ali, speaking at the Lebanon's Masnaa border crossing.
Describing the mass movement of Syria's Palestinians as a nightmare, and a serious problem that should take care of urgently, The Guardian said," A mass movement of Syria's Palestinian population is considered a nightmare scenario by international humanitarian leaders. Senior figures from the United Nations and the European Union are in the region trying to find ways to manage what they fear could be the next phase of a gathering refugee crisis that has already seen more than 500,000 Syrians flee for neighboring borders."
"The Palestinians have been on the move for some time now," said the EU's humanitarian aid commissioner, Kristalina Georgieva. "Their situation is especially sensitive because they do not have too many places to go."
"French Foreign Minister Laurent Fabius described the attack on Al Yarmouk camp as scandalous. 'You have to ask yourself whether President Assad is not trying to enflame the region (through it),' the minister said," the Huffington Post reported.
According to the Guardian, "Al Yarmouk camp is the largest Palestinian refugees' camp in Syria that is inhabited by more than 500,000 of Palestinian refugees. The camp not only hosts Palestinians refugees, but also Syrians internally displaced because of the regime's ongoing military attack." The United Nations Relief and Works Agency for Palestinian Refugees in the Near East (UNRWA) reported that is now housing more than 2,600 displaced Palestinian refugees in its facilities in Damascus area schools. "UNRWA remains gravely concerned about the safety of the Palestine refugee population in Syria and appeals to all parties to refrain from actions that endanger civilian lives and property."
SEO appeals to the UNRWA, the IRCR, and IHCR to implement serious measures to safeguard the security of Palestinian refugees and other Syrian people who have been under ongoing attack by Assad regime, and to facilitate the routes to provide winter supplies and food assistances for people in the Alyarmouk refugee camp and its vicinity.
http://www.france24.com/en/20121216-syria-damascus-palestinian-refugee-camp-yarmouk
http://www.huffingtonpost.com/2012/12/16/-palestinian-yarmouk_n_2312062.html
http://www.guardian.co.uk/world/2012/dec/16/syrian-rocket-palestinian-refugee-camp
http://www.reuters.com/article/2012/12/18/us-syria-crisis-idUSBRE8AJ1FK20121218
http://www.unrwa.org/etemplate.php?id=1573