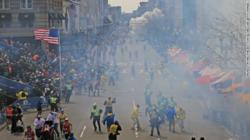 Washington DC
(PRWEB) April 16, 2013 -- The Syrian Expatriates Organization (SEO) strongly condemns the bombings in Boston yesterday and offers condolences to all those affected by this heinous crime. According to a CNN report two bombs struck near the finish line of the Boston Marathon on Monday, turning a celebration into a bloody scene of destruction. At least 144 people were hospitalized, with at least 17 in critical condition and 25 in serious condition. At least eight of the patients are children.
http://edition.cnn.com/2013/04/16/us/boston-marathon-explosions/index.html
"The Boston Marathon is an iconic event in which people from across the world gather in a celebration of humanity's strength and spirit to overcome adversity," said SEO Chairperson Dr. Mazen Hasan. "By targeting such an iconic event, the perpetrator was targeting all of humanity. We grieve with all those affected by this terrorist attack and are hopeful the perpetrators will be brought to justice. The outpouring of support for the city of Boston in the wake of this terror attack demonstrates the ability of humanity to unite in the face of adversity. SEO stands with the American people and the world in condemning this heinous act," said Hasan.
The SEO Extends its condolences to the families and relatives of victims, and urges people of all faiths to pray for the health and well-being of all those affected by yesterday's bombing as well as all those affected by violence across the globe. Furthermore, the SEO urges its members in the Boston area to continue to donate blood and support any relief efforts in Boston.