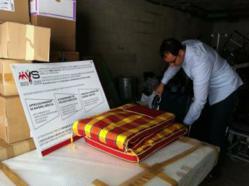 (PRWEB) June 25, 2013
UOSSM extends gratitude to the officials in the French government for their generous donation of medical aids to the northern Syria. UOSSM values the efforts to coordinate the medical and humanitarian works with the Union of Syrian Medical Relief Organizations. As stated in Reuters report, published on Friday, June 21, 2013, "France made its largest medical delivery to northern Syria on Friday, including antidotes for nerve agents, channeling non-lethal equipment as well as medical aid through the Union of Syrian Medical Relief Organizations, a non-governmental association based in Paris."
http://www.reuters.com/article/2013/06/21/us-syria-crisis-medicine-idUSBRE95K12R20130621
"We are grateful to the French government for their commendable efforts and the donation to Syrian people, intended to alleviate the suffering and provide some of the growing medical needs," Dr Tawfik Chamaa, UOSSM Spokesperson said, and added, "We have more than 8 millions Syrians in urgent need for medical care in addition to food and shelter assistance."
Addressing the difficulties associated with the delivery of medical and relief aids inside Syria, and the obstacles facing its distribution, Dr Chamaa said, "We are extremely disturbed by the ongoing deliberate targeting on medical facilities and hospitals inside Syria. Four hospitals were subjected to airstrikes last weeks. It is imperative to highlight the importance of adherence to Geneva convention in reference to protection of medical facilities in time of war. We are struggling to deliver and provide the basic medical supplies to serve millions of Syrians, who are either trapped in besieged areas or incapable to flee the fighting zones."
UOSSM calls on international medical organizations, the WHO, and the international community to increase and broaden their medical and humanitarian support to Syrians inside the country and in the refugee camps.