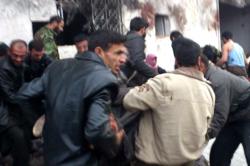 Washington, DC (PRWEB) December 24, 2012
SEO is dismayed by the appalling massacre committed against our people in Halfaya –Hama who paid their lives as a price for a loaf of bread. According to the washington post; Syrian regime airstrikes on a rebel-held town of Halfaya, in the central Syrian province of Hama, on Sunday December 23th 2012 had hit a bakery where long line of people were waiting to buy bread. The primary estimates of the number of casualties ranged from fewer than 100 to as many as 300, with many more reported to be wounded, according to the same report.
http://www.washingtonpost.com/world/syrian-airstrike-kills-dozens-at-bakery/2012/12/23/a311006a-4d28-11e2-950a-7863a013264b_story.html
Describing the hideous massacre, Samer al-Hamawi, an activist in the town of Halfaya, said;" When I got there, I could see piles of bodies all over the ground. There were women and children, There are also dozens of wounded." Providing more details, "We hadn't received flour in around three days so everyone was going to the bakery today, and lots of them were women and children," Hamawi said. "I still don't know yet if my relatives are among the dead."
http://www.reuters.com/article/2012/12/23/us-syria-crisis-airstrike-idUSBRE8BM07C20121223
"This is not the first time where bakeries in Syria have been targeted by Assad forces. Recently, it became a trend to deprive the rebel from their basic living needs. With the insistence on the inaction by the international community, and the continuation on escalation by Assad military forces, we could expect the worst to come." Dr Iyad Azrak , SEO Board member said; " We urge the international community and Human Rights Watch organization to step in and enforce Assad regime to abide by International Humanitarian Law that protects civilians in the time of war."
SEO reiterates HRW in a report stating that10 bakeries were targeted," According to the International Humanitarian Law (laws of war), attacks directed at civilians and civilian objects and indiscriminate attacks are prohibited,' Ole Solvang, emergencies researcher at Human Rights Watch, said; "Every pilot who deliberately launches a rocket at a bread line of civilians, and every commander who gives such an order, should face justice for their crimes,"
http://www.hrw.org/news/2012/08/09/q-laws-war-issues-syria
http://cnn.com/video/#/video/world/2012/12/23/jamjoon-syria-violence-saturday.cnn
SEO considers Halfaya's massacre committed by Assad military forces as a war crime, which demand immediate action by the ICC to bring the airforces personnel and the commanders into justice. SEO stresses on the urgency that the UN adopt the necessary measures to protect the Syrian civilians in the time of war.