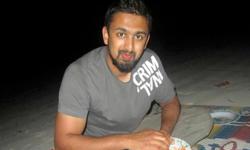 (PRWEB) May 29, 2013
The UOSSM is deeply saddened by the death of Dr Isa Abdur Rahman, 26 years old, a British doctor who left his home, family and job in the UK to help civilians wounded by the conflict in Syria, working as a volunteer in the north-western city of Idlib with the British charity Hand in Hand for Syria (HIHS). Dr Abdur Rahman has died after the makeshift hospital he was working in was shelled. The (HIHS) charity blamed Syrian government forces for targeting the non-military site with the shelling, which also killed two civilians and wounded two others last Wednesday, according to the report in The Guardian, published on May 27th -2013.
http://www.guardian.co.uk/world/2013/may/27/british-doctor-syria-hospital-shelled
Describing Dr Abdur Rahamn as brave, Faddy Sahloul, the chairman of HIHS, said, "We spent a significant amount of time working together in Turkey and Syria. He was one of the bravest and most dedicated people I have met."
Dr Adbur Rahman's death raises an alarming sign of the repeatedly targeting the medical facilities and medical personnel by military forces, which has been documented by several reports. Doctors without Borders stated in a report titled "Syria Two Years On: The Failure of International Aid" on March 2013 that, "Health workers and medical facilities are still receiving threats and medical structures are targeted and destroyed." Moreover, "The Syrian government, and more particularly its Air Force, has been targeting health centers in air raids."
http://www.doctorswithoutborders.org/publications/article.cfm?id=6669&cat=special-report
According to report published by the Canadian Medical Association Journal, CMAJ, on May 7-2013, "At least 130 doctors have been killed and 477 imprisoned during the Syrian Arab Republic's two-year civil war."
http://www.cmaj.ca/site/earlyreleases/7may13_physicians-health-facilities-targeted-in-war-torn-syria.xhtml
Dr Tawfik Chamaa, the spokesperson of UOSSM said, "We are extremely disturbed by the news of Dr Isa Abdur Rahman's death. We extend our condolences to family, friends, and colleagues of Dr Abdur Rahman. His distinguished humanitarian and medical commitment will be remembered by all Syrians for generation to come." Sending condolence to HIHS in UK, Dr Chamaa said, "Our thoughts and prayers are with HIHS charity, Dr Abdur Rahman's colleagues, and all people touched by his exceptional humanitarian works."
UOSSM urges the international community to hold its responsibilities of protecting the medical facilities in time of war, and supports the health care workers to maintain and extend their works.