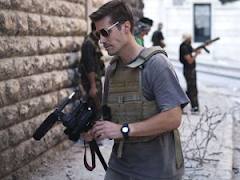 Washington, DC (PRWEB) January 03, 2013
SEO demands immediate release of James Foley, 39, a U.S. freelance journalist, who, reportedly, was reportedly taken captive by gunmen in Northern Syria while driving towards the Turkish border. According to Reuters report, James Foley was last communicated with on the Thanksgiving Day, November. 22nd -2012. Foley's parents went public with his abduction Wednesday, January 2nd -2013 and launched a public campaign asking for the safe return of their son after they had requested for a news blackout about Foley's situation. SEO is deeply concerned on the safety of James Foley and asks "Reporter Without Border" and other international organizations to exert pressure on Assad regime to secure his safety and ensure his release.
SEE: Kidnapped U.S. Journalist Missing in Syria for Six Weeks http://www.reuters.com/article/2013/01/02/us-syria-crisis-journalist-idUSBRE9010EA20130102
"We want Jim to come safely home, or at least we need to speak with him to know he's okay," wrote John Foley, father of Jim Foley, in a press release. "Jim is an objective journalist and we appeal for the release of Jim unharmed. To the people who have Jim, please contact us so we can work together toward his release."
SEE: Press Release: Journalist James Foley Kidnapped in Syria http://www.freejamesfoley.org/press-release-journalist-james-foley-kidnapped-in-syria/
"Syria was the most dangerous country for reporters in 2012." A study by the Committee to Protect Journalists found, with 28 journalists killed. James has previously reported from conflict-ridden countries like Afghanistan and Libya for Agence France-Presse and GlobalPost. In April 2011, he was held for 44 days by Libyan government forces before being released.
SEE: Family of seized U.S. reporter seeks his release in Syria http://www.cpj.org/2013/01/family-of-seized-us-reporter-seeks-his-release-in.php
"By kidnapping James Foley, the Freelance journalist, Assad regime has proven once again its insistence on keep blocking the news to the outside world. Foley's reporting inside Syria demonstrated professionalism and high sense of responsibility," SEO Board Member, Mr. Bassam Jaafar said. "Unfortunately, foreign journalists has been continuously targeted by Assad regime and have been reportedly subjected to detention, torture and even death. We express our deep concern about Mr.Foley's safety and well being. We demand his immediate and unconditional release. We hold the Syrian government the full responsibility of Foley's safety."