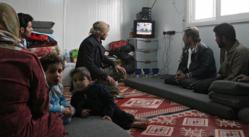 (PRWEB) January 07, 2013
SEO rejects Bashar Assad's speech on Sunday January 6th 2013, in which he ruled out any hope of ending the daily atrocities committed by his forces. Assad's military and the shabeeha vigilante gangs have killed more than 60,000 people and have forced nearly 3 million Syrians from their homes. According to CNN , Assad's defiant speech has faded any possibility of negotiations as he labeled rebels and pro-democracy activists as "killers and criminals."
Unfortunately, while Assad was addressing his people, his forces continued their ongoing bombardments and indiscriminate shelling. Mohammed Doumany, a resident of a Damascus suburb told CNN ""I heard 10 shells fall during the speech."
SEO dismisses the notion that Assad is willing to seek reforms. "Like many fallen dictators before him, Assad held out empty promises of reform and peace initiatives," said SEO board member Dr. Iyad Azrak. " Assad's speech is reminiscent of the nonsensical speeches made by former Libyan leader Gaddhafi and former Iraqi leader Saddam Hussein during the waning days of their regimes; acts of desperation. He is completely out of touch with reality and is bent on destroying his own country before his inevitable fall," said Azrak. " The only thing Assad's speech promises is more death and destruction."
According to CNN report, "Assad refused the notion that the current uprising is the response of the Syrian people who are fed up with the daily oppression and humiliation carried out by his regime. Instead, Assad repeatedly accused Western nations and foreign terrorist groups of working to fragment Syria and uproot his regime." SEO believes that this demonstrates Assad's complete detachment from the reality on the ground. British Foreign Secretary William Hague described Assad's speech on his Twitter feed as "beyond hypocritical. Deaths, violence and oppression engulfing Syria are his own making. Empty promises of reform fool no one," said Hague.
SEO supports any resolution by the international community that ensures an end to the violence against the Syrian people, while reiterating that the agreement must include the ouster of Assad and dissolution of his regime. SEO reiterates Davutoglu, "If it is clear now that Assad will not do anything new, then the UN Security Council must decide on a stance on the situation in Syria,"
http://www.cnn.com/2013/01/06/world/meast/syria-civil-war/index.html
http://www.csmonitor.com/World/Backchannels/2013/0106/Takeaway-from-Assad-s-speech-There-will-be-no-meaningful-dialogue?utm_medium=twitter&utm_source=twitterfeed