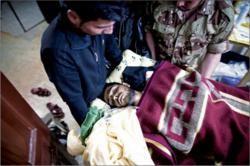 Washington DC (PRWEB) June 03, 2013
Physicians from the besieged town of Al-Qusair are demanding a 48 hour ceasefire in order to evacuate the wounded. According to cbs news, in a report published on June 3rd-2013, the roads from Al-Qusair are currently cut off by Assad military forces. Hospitals have been destroyed, and people are being treated in private homes and field clinics. Dr Kasem Al-Zein, field hospital director in Al-Qusair, told the Associated Press that there are over 300 wounded civilians, many critically, that need urgent medical attention. Dr. Al-Zein also reports that medical supplies are running dangerously low and that evacuation efforts failed when a convoy was attacked and 13 people killed.
SEE: Doctor in Qusair, Syria Pleads for Evacuation of 300 http://www.cbsnews.com/8301-202_162-57587329/doctor-in-besieged-syria-city-of-qusair-pleads-for-help-says-300-people-need-immediate-evacuation/
SEO joins the medical team in Al-Qusair in calling for an immediate 48 hour ceasefire to evacuate the wounded, and provide safe passage for civilians out of the war-zone.