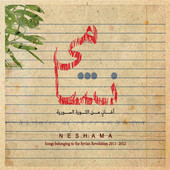 (PRWEB) February 19, 2013
Syrian Expatriates Organization (SEO) is pleased to announce the release of a new revolutionary musical album "Neshama" as a part of a big project "Neshama" that includes also a documentary movie about the role of music in the Syrian Revolution, and the obstacles that free musicians still face, through exclusive footage of the album's recording process which took place in seven countries: Lebanon, Jordan, Turkey, Egypt, France, USA and Syria.
Wael Alkak , the composer and performer of "Neshama" album, is a former Syrian National Orchestra performer, and the main protagonist of the film, joining other folk and professional musicians from different nationalities to create a new type of music that blends traditional instruments with revolutionary chants and classical orchestral sounds affected by other international folk music.
Dr. Tarek Jazaerly, the Project manager, said; "Throughout the last two years of Syrian revolution, we have been witnessing a remarkable type of music evolved. It holds the spirit of our noble cause, narrating the chants of Syrian people who took the streets to protest the injustice and demand freedom. "Describing the exceptional talent of Alkak, Dr. Jazaerly said; "I was honored to work closely with Wael, who was detained and tortured before fleeing to Lebanon and later to France. His performance reflects his pain in Syria and the suffering of Syrian people outside and the mixed feelings the Syrians have during the revolution, the feeling of pain and sadness mixed with proud, dignity and freedom. "
Describing the songs of the album, Dr. Jazaerly, said" This album is a polished and festive documentation of the best musical pieces of Syrian revolution. The album includes some of the most popular songs that Syrians have chanted during peaceful demonstrations. These songs have called Syrians forward to public squares and united them even in the face of regime brutality. They have been sung joyously by crowds confronting tanks and heavy weapons. Two of the most popular songs in this album were sung by Abdul-Basat Al-Saroot who was the national team goalkeeper and now is working hard in the revolution."
SEO Believes that music plays an important role in the Syrian revolution, and would like to thank Alkak and other musicians for their dedicated work to help spread the message of revolution in an entertaining mean.
The "Neshama" CD is available on CD Baby:
http://www.cdbaby.com/cd/waelalkakneshama
And on iTunes:
https://itunes.apple.com/us/album/neshama/id586802825
For any additional information, please contact:
Dr Tarek Jazaerly:
Phone (573)6738388
Email: jazaerly(at)yahoo(dot)com