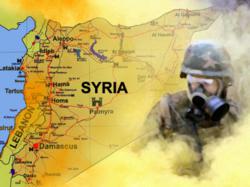 (PRWEB) December 26, 2012
On December 6th -2012, SEO issued a plea directed to the Public health authority in WHO to implement preparedness plan to counter the threat of chemical weapons by Assad regime. However, as alleged reports came out that the Syrian government has used actually used chemical weapons on the city of Homs on December 24th-2012; SEO re-appeal to WHO for urgent implementation of protection plan for civilians under threat of exposing to chemical weapons.
See: http://www.prweb.com/releases/Syrian-Expatriate-Org/chemical-weapons-threat/prweb10209984.htm
Read more: http://www.businessinsider.com/assad-reportedly-using-chemical-weapons-homs-syria-rebels-2012-12#ixzz2G4qBuyiy
According to the Atlanticwire "Activists says that seven are dead and dozens injured after Syrian government troops used chemical weapons against them, when Assad's fighter jets dropped "poisonous materials ' on Homs from above'"
http://www.theatlanticwire.com/global/2012/12/syrian-rebels-say-assads-troops-just-attacked-them-poisonous-gas/60295/
SEO reiterates the U.S. administration warning in August 2012, that any use of chemical weapons by Syrian regime would be " Red Line"; furthermore, Obama amplified the warning again in early December when news of chemical weapons preparation came out of Syria."
Read more: http://www.businessinsider.com/assad-reportedly-using-chemical-weapons-homs-syria-rebels-2012-12#ixzz2G4mEFAme
SEO considers the alleged use of chemical weapons by Assad regime as war crime that necessitates urgent intervention by international community to protect civilians. SEO urges the World Health Organization to, immediately, implement a preparedness plan.
SEO believes that this escalation by Assad regime reflects both: Assad's frantic attempts to quell the rebels, and the failure of the UN and the international community to stop Assad's attacks against civilians using conventional weapons, which grow up to the use of chemical weapons.
The Syrian Expatriates Organization is a leading nonprofit organization of Syrian Americans and Syrian Canadians. Its mission is to support the establishment of a free and democratic Syria. he SEO provides humanitarian relief to those in need and works to promote the social, political and economic development of Syria.