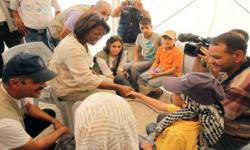 Washington, DC (PRWEB) January 22, 2013
SEO, UOSSM, and SAD regret the UN decision that assigned the Syrian government to manage the Humanitarian aid inside Syria. On December 19th -2012 UN issued a revised Humanitarian Assistance Response Plan (HARP), stating the intention of UN to cooperate with Syrian government to provide the Humanitarian aid inside Syria "the revised plan aimed at supporting the Government of Syria's efforts in providing humanitarian assistance to the affected populations. It will cover the period from 1 January 2013 until the end of June 2013. The financial requirements amount to $519,627,047." according to unocha.org
On January 2nd 2013, UN issued a report describing the Syrian government acts "ruthless suppression of what were initially peaceful and legitimate protests by unarmed civilians," reported by U.N. Human Rights Office, adding that estimates at least 59,648 people had been killed in Syria through November in the protests and fighting there since March 2011, according to NPR report. SEO views this report as credible reference to distrust the Syrian government as an entity to distribute the humanitarian aids to people in need.
Dr Mazen Hasan , SEO board member, said; "We are disappointed by the UN's decision to use the Assad criminal regime to manage the allocated money designated to help Syrians in need. It is unfathomable and compromises the whole process of extending help to Syrian, as it holds the increased potential of Assad using this money for weapons, distributes the aid to people in the areas not affected by Assad atrocities, or misuse the money for non-humanitarian purpose."
SEO considers the " Syrian national coalition for opposition forces " as the only legitimate representative for Syrian people, and urges the UN to act in cooperation with the Syrian National Coalition to identify the independent humanitarian organizations that will ensure the equitable and effective delivery of aids to people in need inside Syria.
http://www.npr.org/blogs/thetwo-way/2013/01/02/168454916/more-than-60-000-have-died-in-syria-u-n-estimates
http://www.unocha.org/cap/appeals/humanitarian-assistance-response-plan-syria-1-january-30-june-2013#.UPtzOq4WSWo.facebook