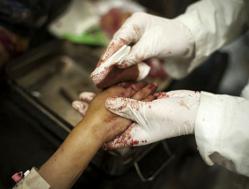 Washington DC (PRWEB) December 26, 2012
On the behalf of Syrian Expatriates Organization and Union of Syrian Medical Relief Organization UOSSM, we would like to extend our sincere appreciation and acknowledgment to Dr. Suhel Khader Mugtadir, a hand surgeon, whose touch of humanity has restored lives of more than 11 Syrians injured by Syrian regime indiscriminate attacks.
Dr. Suhel Khader Mugtadir, a hand Surgeon, has completed his one week mission inside Syria, where he managed to perform more than 11 reconstructive surgical procedures of nerve grafting and tendon transfer in the field hospital inside Syria. Dr Mugtadir's dedicated work was exceptional, and well perceived by all people who worked with him.
Dr Mahir Saleh had the privilege to accompany him is in his trip to Syria, said" I was honored to work with Dr Mugtadir and join his team for one week in Orient Hospital inside Syria. He risked his life to help Syrians in urgent needs for surgical procedures. He is energetic, tireless, and highly knowledgeable Doctor. I remember he kept up working in the OR for almost 24 hours in one setting, trying to accomplish as much as he could in helping our people in Syria. I really appreciate the opportunity to meet him, it was a great mission; he accomplished more than 11 successful reconstructive surgeries. We are looking to have Dr Mugtadir in future medical missions inside Syria."
The Syrian Expatriates Organization is a leading nonprofit organization of Syrian Americans and Syrian Canadians. Its mission is to support the establishment of a free and democratic Syria. he SEO provides humanitarian relief to those in need and works to promote the social, political and economic development of Syria.
The UOSSM is a humanitarian, non-governmental, independent organization, created following the deadly events in Syria, to provide medical and humanitarian aid to Syrian. UOSSM was established by 14 medical and relief organizations, and includes hundreds of physicians of mainly Syrian origins distributed in the United States, Canada, in Europe and in different Arab countries.