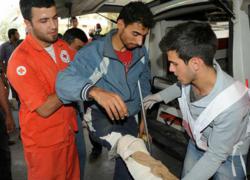 Washington, DC (PRWEB) June 11, 2013
The union of Syrian medical relief organizations (UOSSM) expresses its gratitude to the ICRC and the Lebanese Red Cross for their commendable efforts in evacuating the wounded from alQusair and transferring them to hospitals in nearby areas, as stated in a report by ICRC, published on 06-09-2013, titled: Syria/Lebanon: 87 wounded from Qusair area treated in Lebanon.
http://www.icrc.org/eng/resources/documents/update/2013/06-09-syria-lebanon-wounded.htm
Briefing on the operational plan by ICRC, Mr. Robert Mardini, the ICRC's head of operations for the Near and Middle East, said, " We will do our best to ensure that all wounded people reaching Lebanon receive the medical attention they need," and added that, "Those who have already arrived may only represent the tip of the iceberg -- we don't have information on how many people have been wounded or killed, or on the number of people who remain in Qusair."
Dr Tawfik Chamaa, UOSSM spokesperson, said, "We appreciate the ongoing efforts by ICRC and the Lebanese Red Cross to evacuate the wounded from alQusair, and provide them with the needed treatment. The UOSSM extend the offer to help in evacuation and treatment process for our people in alQusair and to cooperate with the ICRC on any needed aids." Moreover, addressing the extensive humanitarian crisis in alQusair, Dr. Chamaa said, "We are extremely concerned about the hundreds of people who are forced to displaced and fled into the surrounding open lands, in addition to hundreds who choose to stay in alQusair, refusing to give up their homes, facing the risk of retaliation by the Syrian government and fear of massacres. We urge the ICRC to secure an access inside the city of alQusair and ensure their safety."
The UOSSM is coalition of humanitarian, non-governmental, and independent organizations, created following the deadly events in Syria, to provide medical and humanitarian aid to Syrians. UOSSM was established by 14 medical and relief organizations, and includes hundreds of physicians of mainly Syrian origins distributed in the United States, Canada, in Europe and in different Arab countries.