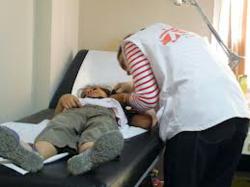 (PRWEB) December 21, 2012
The Union of the Syrian Medical relief organization (UOSSM) appeals to the World Health Organization (WHO) and the UNHCR to implement an urgent plan to control and prevent tuberculosis spreading among the Syrian refugees in Lebanon, where new cases of Tuberculosis have been reported according to Daily Star news.
Raising up the alarming health situation of tuberculosis among the Syrian refugees in Lebanon, The Lebanese Health Minister Ali Hasan Khalil, said that "We have discovered a number of tuberculosis cases that not only could spread among Syrian refugees but to Lebanese communities accommodating Syrian."
Dr. Tawfik Chamaa, UOSSM spokesperson, said, "We believe that spreading tuberculosis among Syrian refugee is a warning sign of deep deterioration in the health status among Syrian refugees, which also a reflection of their long and extensivesufferings. We urge the WHO and other international medical organization to step in and lead collaborative works to prevent TB spreading and treat the existing condition effectively. We all know that tuberculosis is a preventable disease by adopting correct measures; however, ignoring these cases could result in epidemic with high mortality."
The Syrian Expatriates Organization is a leading nonprofit organization of Syrian Americans and Syrian Canadians. Its mission is to support the establishment of a free and democratic Syria. he SEO provides humanitarian relief to those in need and works to promote the social, political and economic development of Syria.
The UOSSM is a humanitarian, non-governmental, independent organization, created following the deadly events in Syria, to provide medical and humanitarian aid to Syrian. UOSSM was established by 14 medical and relief organizations, and includes hundreds of physicians of mainly Syrian origins distributed in the United States, Canada, in Europe and in different Arab countries.
Read http://www.dailystar.com.lb/News/Local-News/2012/Dec-17/198821-tuberculosis-cases-among-syrian-refugees-lebanese-official.ashx#ixzz2FYF7whPY