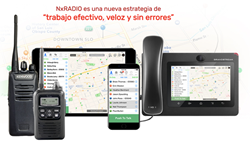 SAN LUIS OBISPO, CALIFORNIA and CHIHUAHUA, MEXICO (PRWEB) July 31, 2018
SYSCOM, a Mexico-based industry leading distributor in telecommunications and security solutions, today announced its release of NXRadio, a Broadband Push-to-Talk solution targeting commercial industries in the Americas. NXRadio offers service on 3G/LTE enabled radio devices, as well as smartphones and personal computers. NXRadio's turnkey service includes the radio hardware, cellular service and Push-to-Talk subscription. SYSCOM offers NXRadio as a stand-alone service, or as an integrated system with any LMR technology. NXRadio is powered by ESChat, the premier secure PTT service provider.
SYSCOM opted to license technology from ESChat following an extensive search for a best-in-class broadband Push-to-Talk solution as part of its strategy to provide advanced RoIP and Dispatch solutions with a wide suite of enterprise-grade features to its existing LMR customers.
Victor Sanora, Engineering Manager of SYSCOM, explained, "Our customers specialize on high end users. All of them are seeking a secure method to connect their LMR system to LTE. ESChat is the market leader. Security and high availability is what you get from them and that is exactly what our customers are looking for. Our close relationship with their engineers helped us optimize the solution for the LATAM market."
With 39 years of experience, SYSCOM has a globally recognized reputation as a distributor of telecommunications and security solutions. By partnering with ESChat, SYSCOM customers will now be able to leverage ESChat's innovative PTT over LTE, providing end users with cost-effective, intuitive and cutting-edge features for all aspects of their businesses.
Judy King, Director of Sales for ESChat, added, "We are excited about SYSCOM's launch of NXRadio. SYSCOM's reputation and experience will be key factors in the success of NXRadio. Their approach is well tuned for the LATAM markets and we anticipate that they will achieve a high level of market success."
About ESChat:
ESChat (http://www.eschat.com) is the leading solution for carrier independent Secure Push to Talk (PTT) over LTE communications. ESChat includes AES-256 encrypted PTT voice and multimedia (text and image) messaging. ESChat also provides live and historical (bread crumb) tracking and mapping. Currently used by the U.S. Military as well as federal, state and local law enforcement, ESChat is able to operate over and across any wireless network, including all commercial carriers, private 3G/4G networks and WiFi. ESChat supports interoperability with all LMR radio networks, including P25 via the native Inter RF Subsystem Interface (ISSI) protocol and DMR via the native Inter Application Interface Specification (AIS) protocol.
About SYSCOM / EPCOM
SYSCOM (http://www.syscom.mx) is one of the leading distributors in telecommunications and security with a solid experience with more than 39 years distributing Telecommunications and Security solutions with the best brands in the world and 17 distribution centers strategically located in the US, Mexico and Colombia. SYSCOM always brings value to its customers with pre and post sales support by its Certified Engineers Department, and they provide a robust platform with online tools to facilitate and expedite purchases to authorized customers.