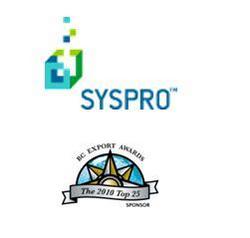 (Vocus) October 19, 2010
SYSPRO, a leading provider of ERP software, today announced that SYSPRO Canada remains fully supportive of the goals of the Canadian Manufacturers and Exporters Association (CME) and is expressing this commitment as the sponsor of the Primary Products Category of the CME BC Exports Awards.
According to John Fahey, President, SYSPRO Canada, "SYSPRO has supported the CME Association for many years. As a CME member and supplier of business software for manufacturers and distributors, SYSPRO helps to improve the competitiveness of Canadian manufacturers and exporters to excel in markets around the world. As the corporate sponsor of the CME Primary Products and Resources Award our aim is to further our support and promote the competitive success of Canadian companies on the global stage."
About CME
The CME (the Canadian Manufacturers and Exporters) association is the largest association for manufacturers and exports across Canada. CME's membership is drawn from all sectors of Canada's manufacturing and exporting community and from every province across the country. CME's membership network accounts for an estimated 82% of total manufacturing production and 90% of Canada's exports. More than 85% of CME's members are small and medium-sized enterprises. CME, through various initiatives, including the establishment of the Canadian Manufacturing Coalition, touches more than 100,000 companies from coast to coast, engaged in manufacturing, global business and service-related industries.
Since 1871, CME has relied on the support and contributions of partners to help drive positive change in Canadian manufacturing and exporting. With this support, CME is able to effectively improve the competitiveness of Canadian manufacturers and enable Canadian exporters to excel in markets around the world.
CME annually produces the highly anticipated BC Export Awards. For more information on the BC Export Awards, access: http://www.bcexportawards.com/
About SYSPRO
Since its inception in 1978, SYSPRO has been delivering state-of-the-art business solutions to some of the world's leading companies. As a global leader in the production of world-class ERP software, the company now caters to the specialized needs of over 14,500 licensed companies in more than 60 countries worldwide. SYSPRO is marketed globally through regional territory distribution centers and a global reseller network in the Canada, the US, Africa, Asia Pacific, Australia and the UK.
SYSPRO is a fully integrated business software solution that provides complete control over the planning and management of all facets of business including accounting, manufacturing and distribution operations in a variety of industries.
All company names and products mentioned in this release are trademarks or registered trademarks of their respective holders.
###