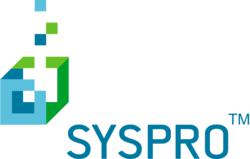 Burnaby, British Columbia (PRWEB) October 04, 2011
SYSPRO, a leading provider of enterprise resource planning (ERP) software, today announced its continued support of the goals of the Canadian Manufacturers and Exporters Association (CME). As the sponsor of the Manufactured Products category for the 2011 BC Export Awards, SYSPRO is honored to recognize and reward a BC company that has displayed exceptional accomplishments in product manufacturing innovation.
The award will recognize a BC manufacturer that has overcome obstacles and demonstrated advancements in product manufacturing processes and exporting strategies. SYSPRO, with its commitment to helping businesses enhance their methods through its ERP solutions, is the perfect sponsor for an award that recognizes companies that have taken on challenges in manufacturing, and come out on top.
According to John Fahey, President, SYSPRO Canada, "As an active CME member and supplier of business software for manufacturers and distributors, SYSPRO helps boost the competitiveness of Canadian manufacturers and exporters. With our focus on supporting the success of BC companies through ERP solutions, sponsoring this award is a great opportunity for SYSPRO to show its support for manufacturing in Canada. We look forward to celebrating the achievements of all the finalist companies recognized, both for their progress in improving local manufacturing and their successes in the global market.
About CME
The CME (the Canadian Manufacturers and Exporters) association is the largest association for manufacturers and exports across Canada. CME's membership is drawn from all sectors of Canada's manufacturing and exporting community and from every province across the country. CME's membership network accounts for an estimated 82% of total manufacturing production and 90% of Canada's exports. Since 1871, CME has relied on the support and contributions of partners to help drive positive change in Canadian manufacturing and exporting. CME annually produces the highly anticipated BC Export Awards.For more information on the BC Export Awards, visit http://www.bcexportawards.com/
About SYSPRO
SYSPRO is one of the longest standing and largest independent, international developers and vendors of enterprise business solutions. SYSPRO has a proven track record of managed, sustainable growth and is operational in over 60 countries, across six continents with over 1,500 channel and support partners. By deploying the latest technology, backed by a truly dedicated and professional team, SYSPRO provides world-class software solutions backed by world-class service for more than 14,500 licensed companies across a broad spectrum of industries. http://www.syspro.com
All company names and products mentioned in this release are trademarks or registered trademarks of their respective holders.
# # #