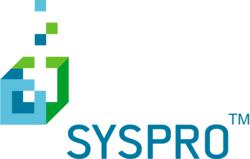 Burnaby, British Columbia (PRWEB) November 15, 2011
SYSPRO, a global, independent Enterprise Resource Planning (ERP) software provider, announces today its success in managing the highly complex inventory and financial processes at WeighPack Systems, a Montreal based manufacturer of packaging equipment. The SYSPRO ERP solution gives WeighPack, a company that deals mainly with built-to-order customized packaging solutions, the ability to easily control a huge inventory across various warehouses and subsidiary companies, as well as real-time financial information.
Given the extremely variable nature of the products WeighPack produces, the company has a massive amount of stock codes and componentry to manage. They looked to the SYSPRO ERP software to create a standardized platform that allows them to efficiently and easily control their large inventory. A centralized server allows anyone at any of the warehouse locations or subsidiary branches to access real-time inventory details and records.
The SYSPRO inventory accounting software has also allowed WeighPack to streamline its financial processes, supporting costing as well as general accounting needs. The software lets WeighPack know to the penny what a job will cost in advance, and adjusts for the real cost within seconds of the job being completed. With no lag in updating records and data, with the SYSPRO ERP, anyone within the company can count on accurate financial information at any given time.
"We now have a standard platform across all our warehouses and subsidiary entities," shares Louis Taraborelli, President of WeighPack. "Using a centralized server, we can access real-time inventory information from any of our warehouses. We can also access the bookkeeping records of our subsidiary companies, allowing our accounting department to stay on top of our financial health. To get the same level of information without SYSPRO, I'd need double the accounting staff. SYSPRO continually upgrades and revises its software to make use of emerging technologies. From my perspective, everyone at SYSPRO Canada is accessible, personable, and interested in the well-being of our company."
About WeighPack
For twenty years WeighPack Systems has delivered thousands of packaging systems throughout the world for varied and diverse applications and today WeighPack has amongst the largest and broadest range of packaging machines available. From line layout design, manufacturing, factory acceptance testing, installation, training and after sales technical support and parts, WeighPack is a one-stop-shop for packaging systems. For more information visit http://www.weighpack.com.
About SYSPRO
SYSPRO is one of the longest standing and largest independent, international developers and vendors of enterprise business solutions. SYSPRO has a proven track record of managed, sustainable growth and is operational in over 60 countries, across six continents with over 1,500 channel and support partners. By deploying the latest technology, backed by a truly dedicated and professional team, SYSPRO provides world-class software solutions backed by world-class service for more than 14,500 licensed companies across a broad spectrum of industries. http://www.syspro.com
All company names and products mentioned in this release are trademarks or registered trademarks of their respective holders.
# # #