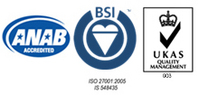 By achieving this prestigious certification, we've demonstrated that we practice the highest standards of privacy and confidentiality and have the highest level of security in place in our offshore facilities
(PRWeb UK) August 10, 2009
London, UK (PRWeb UK) Systems Valley, a leading provider of IT solutions and services, today announced it has attained ISO 27001 certification for its offshore software development centre in India.
The ISO 27001: International Standard for Information Security is only awarded to organisations who demonstrate the highest competency in information security management, and to achieve certification Systems Valley proved it stringently protects its customers' intellectual data by employing best practice in the area of information security and by having appropriate and detailed security controls in place at all times at its development centre.
"Safeguarding our customer's data is our number one priority," Saleel from Systems Valley commented. "By achieving this prestigious certification, we've demonstrated that we practice the highest standards of privacy and confidentiality and have the highest level of security in place in our offshore facilities," Saleel added. "Our customers can outsource their business-critical projects to us with complete peace of mind as they know their data is safe and secure."
ISO/IEC 27001 is the highest international standard for evaluating a company's security policies and procedures and its compliance with applicable laws and regulations. Compliance with the standard shows that a company has taken rigorous, preventative measures to protect its customers' personal information and sensitive data.
To achieve ISO 27001 certification, Systems Valley's offshore development centre was comprehensively assessed and audited by a team of third-party examiners who verified that the development centre's business processes and security procedures strictly adhere to the highest international information security standards.
An experienced team of Microsoft Certified professionals work on an extensive range of software development and IT-related projects at the state-of-the-art facilities, and in addition to ISO 27001, the centre has also been awarded ISO 9001 certification.
For more information about Systems Valley, go to: Systems Valley Website.
About Systems Valley:
Based in the UK, with headquarters in Hatfield, Systems Valley are a leading provider of cutting-edge software products, state-of-the-art E-Commerce solutions and highly-skilled offshore software developers. As a Microsoft Gold Certified partner, Systems Valley specialises in Microsoft technologies and provides small to medium size businesses with powerful IT solutions and services that range from off the shelf products to complete, customised systems.
Contact Information
United Kingdom
Systems Valley Ltd, The Innovation Centre, College Lane, Hatfield, Herts. AL10 9AB, U.K.
Tel: 0845 257 9430, Fax: 0845 257 9538
Visit Systems Valley website here
India
Systems Valley Private Ltd, Elite Arcade, Chakkorathukulam, Kozhikode, Kerala, India, 673 011
Tel: +91 495 325 5055, Fax: +91 495 276 7665
Web: Visit Systems Valley website here
###