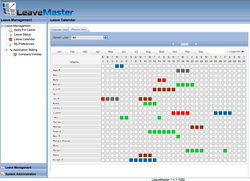 Developed using advanced Microsoft .NET technologies and featuring a powerful in-built workflow engine that was implemented using Windows Workflow Foundation; LeaveMaster establishes a single, fuss-free process for applying for, and authorising, leave across an organisation. And since its exporting and reporting features allow absenteeism patterns and trends to be spotted and analysed
London (PRWeb UK) March 27, 2009
Systems Valley, a leading provider of IT solutions and services, today announced the launch of LeaveMaster, a new web-based application that takes the time, fuss and paperwork out of the process of applying for, and approving, all types of workplace leave and absence. Using LeaveMaster, employees in organisations of all sizes can plan, request and obtain authorisation for holidays using a simple, automated system. The state-of-the-art application also enables managers to keep accurate, up-to-date records of all types of employee absence, including sick leave and training days, so they can make informed decisions before granting leave, avoid leaving their teams short-staffed and tackle the costly problem of absenteeism.
"LeaveMaster has been specially designed to save organisations time and money," Zameel from Systems Valley commented. "Developed using advanced Microsoft .NET technologies and featuring a powerful in-built workflow engine that was implemented using Windows Workflow Foundation; LeaveMaster establishes a single, fuss-free process for applying for, and authorising, leave across an organisation. And since its exporting and reporting features allow absenteeism patterns and trends to be spotted and analysed," Zameel added, "it could have significant cost-saving benefits, at a time when organisations are looking for ways to cut costs."
To book a holiday or request a day off in lieu using LeaveMaster, rather than filling out a form, an employee logs into a web-based application, which they can access no matter where they are. They can see how many days holiday they've already taken, how many days they have left and who is already away on the days they want to take off, before requesting their leave online. This triggers an email to their line manager, who can see at a glance who else is away on the days requested, before authorising or denying the request at the click of a button. Details of all upcoming employee leave is then stored in a leave calendar, which can be accessed via the application or integrated into an outlook calendar.
For more information about LeaveMaster, go to: http://www.leavemaster.com
About Systems Valley
Based in the UK, with headquarters in Hatfield, Systems Valley are a team of highly-skilled IT professionals who are experts in the business-critical areas of Internet and software development, E-Commerce, IT programming and the cutting-edge software products and solutions. As a Microsoft Certified partner, Systems Valley specialises in Microsoft technologies and provides any size businesses with powerful IT solutions and services that range from off the shelf products to complete, customised systems.
Contact Information
United Kingdom
Systems Valley Ltd, The Innovation Centre, College Lane, Hatfield, Herts. AL10 9AB, U.K.
Tel: 0845 257 9430, Fax: 0845 257 9538
Web: http://www.systemsvalley.com
India
Systems Valley Private Ltd, Elite Arcade, Chakkorathukulam, Kozhikode, Kerala, India, 673 011
Tel: +91 495 325 5055, Fax: +91 495 276 7665
Web: http://www.systemsvalley.co.in
###