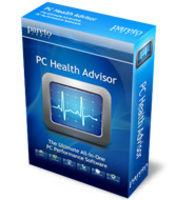 We are absolutely ecstatic about PC Health Advisor and the ways it can help people
Victoria. B.C. (PRWEB) May 19, 2010
At an official ribbon cutting ceremony at ParetoLogic's head office, company executives unveiled PC Health Advisor to the public. The new software packs a huge number of features and tools to optimize, secure, and maintain Windows PCs. With ParetoLogic's successful track record, indications are that PC Health Advisor will help millions of customers and their computers.
"We are absolutely ecstatic about PC Health Advisor and the ways it can help people," said Elton Pereira, ParetoLogic's President, CEO and Co-Founder, at the program launch celebration. "This is the software that our users have been asking for."
PC Health Advisor raises the bar for system utility and optimization software. Included in the digital multi-tool are a registry cleaner, privacy scanner, and malware process detector. The registry cleaner detects and removes problems in the Windows registry to improve performance, speed and system stability. The privacy scanner locates personal information and then permanently erases it. Computers continually record a user's actions, the files accessed, and websites visited. PC Health Advisor removes this privacy and security risk. The malware process detector, as the name implies, searches for active malware on the system. This ensures that malware does not annoy users with pop-ups, or endanger them with keyloggers or Trojans.
"We've integrated truly essential functions," said Ted Deng, Senior Project Manager at ParetoLogic, "not only are vital optimization features included but we've also added completely new tools and controls."
These tools include direct access to Windows customization options, a process manager, duplicate file finder, Startup Manager, and BHO Manager. The software pairs ParetoLogic's user-friendly interface with an array of technologies that have traditionally been the exclusive domain of highly trained technicians. All told, the toolkit gives Windows users unrestricted control over their computers, and instant power to clean, tweak, and fine-tune them.
"The software is so powerful, but the interface so easy-to-use," said Pereira with a smile, "PC Health Advisor might end up giving some users a reputation as a computer whiz."
About ParetoLogic, Inc.
In 2004 four brothers recognized that modern computer users need not rely on computer repair technicians to maintain their own PC's. Knowing that sophisticated technology married with a truly user-friendly interface would empower people to secure and optimize their own computers, the brothers researched the marketplace to define and develop the software products that would most benefit today's computer user.
ParetoLogic now employs 125 professionals to help them research, develop, and market software applications that will enable people to secure and enhance their computing experience. Available in 208 countries around the world, ParetoLogic has established partnerships on a global scale to ensure that its products are available to all computer users, regardless of location, language, or computing experience.
Attention to the needs of the consumer coupled with a commitment to delivering exceptional software applications and resource-rich websites guarantee that our products will exceed your expectations.
###