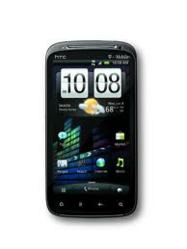 PhonesOverstock.com offers The HTC Sensation 4G at $160 with no contract...
Los Angeles, CA (PRWEB) June 12, 2011
If you like T Mobile Phones, PhonesOverstock.com has great news for you.
First, T-Mobile plans to double the speed of its 4G network in more than new 50 markets. That means customers can enjoy download speeds of up to 42 Mbps. What is the use of an upgraded network if you don't have a 4G phone?
Second, one of the most anticipated 4G Android handsets is coming to town. It's the HTC Sensation 4G! It is hitting the shelves on June 15th and available for pre-order at PhonesOverstock.com now.
Here are the HTC Sensation headline-grabbing features:

4G and Wi-Fi Capable
1.2 Ghz Dual-Core processor
4.3" Super LCD High-Resolution (qHD ) Touch-Screen
8 MP Camera and 1080 HD Video Recording
1.3-megapixel Front-Facing Camera for Video Chat
Android 2.3 Gingerbread with HTC Sense 3.0
768MB of RAM, 1GB of internal storage
The 1.2GHz dual-core processor is a speed demon with faster multitasking.
The 4.3-inch LCD touchcreen with 540×960 resolution offers 35% more pixels than a typical display. The display on the super LCD screen at a qHD resolution looks superb. With its sharpness and a better aspect ratio, the widescreen monster sized screen is perfect for viewing movies without aspect ratio problems, browsing and ebook reading. It is a visual treat.
The HTC Sensation is able to record full 1080p video with up to 30 frames per second using its rear 8MP camera. The camera also features instant capture with stereo sound recording in the camera.
It's going to be powered by Android 2.3 Gingerbread with the new HTC Sense 3.0 on top of it. The HTC Sense 3.0 brings a better lockscreen , new animations and improved interaction. It also comes with HTC Watch which brings better movie streaming to the handset. There is full social social integration with FaceBook and Twitter and one can easily share photos and other files with friends on other networking sites in an instant.
The glass is contoured along the edges of the screen which helps to protect it when it's laying face down on a surface like a table. It has an all aluminum body.
However three are three areas that I do not like. The battery life is questionable. The 1 GB internal storage for apps is limited although it can be expanded up to 32 GB using micro SD cards. The back of the handset is not sexy enough.
T-Mobile Phones havent disclosed a price or tariff plans yet, but Target has put up the Sensation 4G for $200 on contract and $550 sim-free. PhonesOverstock.com offers the phone at $160 with no contract.
With a stunning display, Hi-Fi audio and a truly immersive HTC Sense experience, the HTC Sensation is the best hi-def multimedia phone yet. This could be the best Android phone ever. The HTC Sensation 4G is truly sensational.
# # #