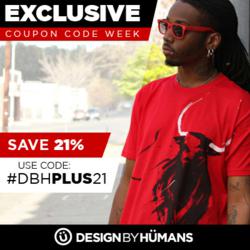 Send an email to receive and exclusive coupon code.
Chico, CA (PRWEB) May 01, 2013
In an effort for Design By Humans and the affiliate marketing program to work closer together, an exclusive discount code is being made for all the affiliates that would like to have a custom code. The 26% off sale is a way for the affiliate marketers to work with directly with Design By Humans and offer customers a special deal.
Growth in Affiliate Marketing
Affiliate marketing has created a large boom across the internet, as Google advertising, and banner advertisement can be expensive. Running campaigns through affiliates is a great way to boost traffic and revenues without up front costs. There are companies managing thousands of blogs, deal sites, and CSE's that help companies get started promoting affiliate products for smaller companies. It can be difficult for smaller companies to stick out against the bigger marketers, so offering a special discounts is always a good idea. Check out the DBH T Shirt affiliate program.
Design By Humans Affiliate Network
Design By Humans has increased traffic, engagement, and revenue via affiliate channels. People shop the internet for convince, price and availability. Thus sales, discounts and exclusive offers are a great way to trigger new customers or get an old customer back. Design By Humans recently sent out a special campaign for affiliates to give out exclusive coupon codes to all of if affiliates. This way the affiliate marketers increase branding and Design By Humans will have an exclusive offer to send out to different channels.
Affiliate marketers like having exclusive coupon codes made, to promote special codes to affiliates. This gives affiliates an edge on all the competing web sites. Another benefit is company's get to see the affiliates that actually contribute to the site. A company that requests a special code is more willing to work on feature campaigns, deals and promotions down the road.
The Design By Humans coupon code promo will be featured until May 7th. Use code #DBHplus21 to save 21%. Send darren(at)designbyhumans.com an email for an exclusive coupon code to save 26%. Design By Humans is also taking applications for new sites to join the t shirt affiliate network.
Design By Humans specializes selling t shirts exclusively online. Everyday a new contest winning t shirt design is available for $15. The winner receives $1000, and the t shirt is printed and sold. The DBH Collective features over 40 artist stores and 1000 custom t shirt designs. Select a favorite design and t shirt color for a custom t shirt.