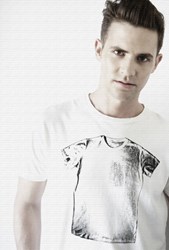 I created a brand, Paste, and went from there. Now I do graphics on t-shirts and not on t-shirts - Jason Laurits
Brooklyn, NY (PRWEB) October 09, 2012
Paste's graphic t-shirts, designed by artist Jason Laurits, are hand-silkscreened in Brooklyn, NYC. Artwork is printed on Made-in-the-USA, 100% cotton t-shirts that are enzyme-washed to battle shrinkage and to give a vintage-soft feel.
Through a digital medium, Laurits copies, cuts, and pastes over and over again to create the bold, whimsical, sometimes insightful, sometimes irreverent collages that Paste has become known for.
Laurits pulls from photographs of his own and ones found in the public domain, as well as old maps, vintage fabrics, family keepsakes, antique wallpaper, and anything else he can think of to get the perfect tee shirt image.
While pursuing a career in music in his early 20s, Jason Laurits taught himself how to silkscreen for posters to promote his shows around New York City. His music, a mixture of rock and electronica, eventually took him to London where, to help fund his recordings, he used silk-screening to create one-of-a-kind printed t-shirts and successfully sold them at random indie fashion markets.
Eventually deciding to take a break from music, Laurits returned to New York City and attended the New School for writing. During this time he continued to sell his printed t-shirts, slowly growing a fan base. By the time he finished school, the now-named Paste, had enough potential for Laurits to put all his energy into developing it further.
Laurits wanted to take Paste toward a different angle from the oversaturated graphic t-shirt market. Instead of silk-screening conceptual images or those that evoke cooler-than-thou motifs, Laurits wanted Paste t-shirts to have a little more fun and a lot more narrative to them. Because of this approach, Paste has not only been featured in prominent stores across the U.S., Canada, and Japan, but also as part of several art exhibitions in the U.S., Ireland, and Switzerland.
The t-shirts, themselves, are made in California with Laurits's own custom-colors, and are hand-silkscreened in Brooklyn. All graphics are designed by Laurits.
Paste t-shirts have also been featured various printed press including Antenna, US Weekly, InStyle (Germany), NY Press, MetroSource, and Viewpoint, as well as online on Thrillist, Refinery29, ILoveYourTshirt, Shirtspotting, and TCritic to name a few.
The iloveyourtshirt.com interview with Jason Laurits can be read here: http://iloveyourtshirt.com/new,PASTE-Jason-Laurits .