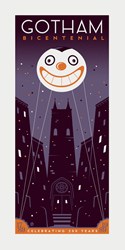 Philadelphia, PA (PRWEB) October 22, 2012
T-Shirt Designer, Graphic Designer and Illustrator Dave Perillo was born in 1974, the same year Wham-O introduced the Slip N' Slide. In 1st grade, Dave revealed in his autobiography "Me Book", that when he grew up he would like to be Ziggy. This ambition was deflated by 2nd grade when he realized that A) Ziggy is not real, B) Ziggy is completely bald, and C) Ziggy wears no pants. While the thought of going throughout life sans pants was somewhat appealing he decided to pursue his second choice, a career in art.
His t-shirt designs have appeared on Teefury and Threadless among others and he draws inspiration for his work from many of the following sources: 1950's Sci-Fi Movies, Charles Schultz, Jim Flora, Ray Harryhausen, Roy Lichtenstein, Jim Henson, Hanna Barbera, The Twilight Zone, Alfred Hitchcock & Character Advertising Icons. Dave currently resides in the burbs of Philly, works as an illustrator, believes that bowling is the sport of kings and a bag of Swedish Fish is a seafood dinner.
Dave was recently interviewed here http://iloveyourtshirt.com/new,Dave-Perillo-T-Shirt-Designer-Graphic-Designer-Illustrator-Interview
About T-Shirts
The t-shirt (also known as tee shirts or tees) evolved from undergarments used in the 19th century, through cutting the one-piece "union suit" underwear into separate top and bottom garments, with the top long enough to tuck under the waistband of the bottoms. By the Great Depression, the t-shirt was often the default garment to be worn when doing farm or ranch chores, as well as other times when modesty called for a torso covering but conditions called for lightweight fabrics.
Tee-shirts, with and without buttons, were adopted by miners and stevedores during the late 19th century as a convenient covering for hot environments.
T-shirts, as a slip-on garment without buttons, originally became popular in the United States when they were issued by the U.S. Navy during or following the Spanish American War. These were a crew-necked, short-sleeved, white cotton undershirt to be worn under a uniform. It became common for sailors and Marines in work parties, the early submarines, and tropical climates to remove their uniform "jacket", wearing (and soiling) only the undershirt.
Named the t-shirt due to the shape of the garment's outline, it soon became popular as a bottom layer of clothing for workers in various industries, including agriculture. The t-shirt was easily fitted, easily cleaned, were made in various colors and patterns and inexpensive, and for this reason it became the shirt of choice for young boys.
The most popular method of printing t-shirts is screen printing, however embroidered t-shirts and the interest in direct to garment printing (DTG) which is the process of using inkjet printers to print an image directly onto t-shirts without the use of screens like with screen printing, is increasing at a steady rate. In addition, DTG printing uses eco-friendly, water soluble ink, unlike some screen printing methods that layer Plastisol (a suspension of PVC particles in a plasticizer) on top of the t-shirt. The only requirement for DTG printing is for the image to be high resolution, resulting in photograph quality printing with no setup fee or minimums.