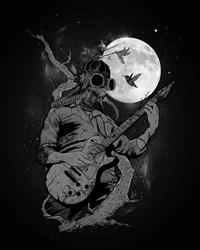 Cebu City, Philippines (PRWEB) October 10, 2012
Francis Minoza and Laurence Minoza are two brothers who make up the design team Nicebleed. Hailing from Cebu City Philippines, they started designing t-shirts in 2008 and have not stopped creating since. A wide variety of illustrations and visuals blanket the collaboration that contains flora and fauna, dark, macabre, graphic design to pop surrealism. Traditional, digital and mixed media is contained in their art.
They started working full time as freelancers in 2011, generating more prints and t-shirt designs and their art can be seen at tee shirt contest sites online like Threadless, Design By Humans and Shirtwoot, to name a few.
They love their current art style and want to continue doing some more of it at present. Discover them and follow their journey as they go along the infinite road of art.
The iloveyourtshirt.com interview with The Minoza Brothers can be read here: http://iloveyourtshirt.com/new,The-Minoza-Brothers
About T-Shirts
The t-shirt (also known as tee shirts or tees) evolved from undergarments used in the 19th century, through cutting the one-piece "union suit" underwear into separate top and bottom garments, with the top long enough to tuck under the waistband of the bottoms. By the Great Depression, the t-shirt was often the default garment to be worn when doing farm or ranch chores, as well as other times when modesty called for a torso covering but conditions called for lightweight fabrics.
Tee-shirts, with and without buttons, were adopted by miners and stevedores during the late 19th century as a convenient covering for hot environments.
T-shirts, as a slip-on garment without buttons, originally became popular in the United States when they were issued by the U.S. Navy during or following the Spanish American War. These were a crew-necked, short-sleeved, white cotton undershirt to be worn under a uniform. It became common for sailors and Marines in work parties, the early submarines, and tropical climates to remove their uniform "jacket", wearing (and soiling) only the undershirt.
Named the t-shirt due to the shape of the garment's outline, it soon became popular as a bottom layer of clothing for workers in various industries, including agriculture. The t-shirt was easily fitted, easily cleaned, were made in various colors and patterns and inexpensive, and for this reason it became the shirt of choice for young boys.
The most popular method of printing t-shirts is screen printing, however, the interest in direct to garment Printing (DTG) which is the process of using inkjet printers to print an image directly onto t-shirts without the use of screens like with screen printing, is increasing at a steady rate. In addition, DTG printing uses eco-friendly, water soluble ink, unlike some screen printing methods that layer Plastisol (a suspension of PVC particles in a plasticizer) on top of the t-shirt. The only requirement for DTG printing is for the image to be high resolution, resulting in photograph quality printing with no setup fee or minimums.