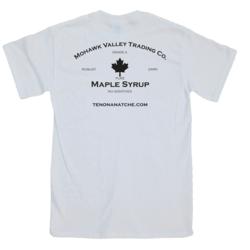 New York, NY (PRWEB) September 07, 2012
The Mohawk Valley Trading Company is giving away one Maple Syrup T-Shirt with each order of Maple Syrup from 9/07/12 thru 08/14/12. The t-shirt is a Gildan, G200 6.1 oz. Ultra Cotton® T-Shirt made in 100% preshrunk cotton, with the image of The Mohawk Valley Trading Company Maple Syrup label and URL printed on the back.
Although the most popular method of printing t-shirts is screen printing, Crooked Brook t-shirts are printed using Direct To Garment Printing (digital garment printing or DTG) which is the process of using inkjet printers to print an image directly onto t-shirts without the use of screens like with screen printing, which requires a lot of setup e.g., creating screens for each color. In addition, DTG printing uses eco-friendly, water soluble ink, unlike some screen printing methods that layer Plastisol (a suspension of PVC particles in a plasticizer) on top of the t-shirt. The only requirement for DTG printing is for the image to be high resolution, resulting in photograph quality printing with no setup fee or minimums for custom t-shirts.
Mohawk Valley Trading Company maple syrup is made primarily from sugar maple sap and it is used and recommended by one of by the world's most recognized chefs, Bobby Flay:
"I have admitted that brunch may just be my favorite meal of the week. As a lover of maple syrup I wanted to introduce you to a new favorite of mine: Mohawk Valley Trading Company's Pure Maple Syrup from Mohawk Valley and the Adirondacks.
It's rich, dark sweetness goes perfectly with pancakes and waffles of course but would be a great added into oatmeal too. I use maple syrup in my cooking all the time—I add it to a pan sauce for meat and poultry, add balance to a soup or stew as well as vegetables and vinaigrettes. I love when I come across a great quality, local product that I can share with you. And this one is just delicious."
About Maple Syrup
The production of maple syrup in North America predates European colonization. Early Native American societies in Canada and the northeastern United States were distilling maple syrup and sugar before those geographic boundaries existed. There is no written record of the first syrup production but several native legends persist. Many tribes celebrated the short maple sap collection season with specific rituals.
The Native Americans collected maple sap from v-shaped notches carved into maple trees. The sap was diverted into birch bark buckets using bark or reeds. It was concentrated by placing hot stones into the buckets or by freezing the sap and removing the ice, which is composed only of water.
Sugar maple sap is preferred for maple syrup production because it has an average sugar content of two percent. Sap from other maple species is usually lower in sugar content, and about twice as much is needed to produce the same amount of finished syrup.
When Europeans reached northeastern America they adapted native techniques to make their own maple syrup. The v-shaped notches were replaced with auger-drilled holes. This practice is less damaging to the trees. Bark buckets were replaced with seamless wooden buckets carved from lumber rounds. The method of sap concentration also changed from passive to active. Large amounts of sap were collected and brought to a single area where it was boiled over fires in round cauldrons until reduced to the desired consistency. 'Sugar shacks' were built expressly for the purpose of sap boiling. Draft animals were often used to haul fire wood and large containers of sap for sugaring. Maple syrup was an important food additive in early America because imported cane sugar was not yet available.
In the mid-1800's syrup production changed again. Round cauldrons were replaced by flat pans in order to increase surface area and therefore allow for faster evaporation. Over the next 60 year several variations on this design were patented. Draft animals were replaced by tractors and heating methods expanded to include propane, oil and natural gas as well as wood.
The 1970's represent another period of major changes in maple syrup production. Plastic tubing running directly from trees to the sugaring location eliminated the need for energy and time intensive sap collection. Reverse osmosis and pre-heating made syrup production more efficient. Recent advances have been made in sugarbush (maple trees used primarily for syrup production) management, filtration and storage.
There are two well known systems of maple syrup grading in use today. One system is used in Canada (where 80% of the world's maple syrup is produced) and another system is used in the United States of America. Both systems are based on color and translucence with relate to the flavor of the syrup. Different grades are produced by the same trees over the length of the season.
Since maple syrup recipes usually do not specify any particular grade to use, take into consideration that darker colored syrups will produce dishes that a have a pronounced maple flavor.
About Crooked Brook
Crooked Brook is a unit of the atelier division of an art studio that offers full service apparel design, pattern making, sample making, private-label small lot production, direct-to garment printing and embroidery. Since 1989, they've built a strong reputation of providing top-notch apparel designs, patterns, fit and production samples for many brand name catalogs and retailers, as well as wardrobe and costumes for movies, television and theater.
All Crooked Brook branded garments and accessories are proudly made to order in the U.S.A.
Crooked Brook ships worldwide. Hours of operations are 7:00 a.m. to 7:00 p.m. EST, seven days a week. Reach them at (315) 733-1992 to learn more.