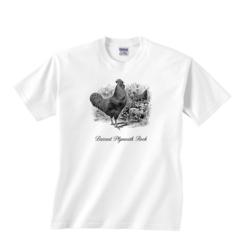 I share the joys of my backyard animals with a worldwide audience via HenCam.com, which features live-streaming cams on my flock and goats. - Terry Golson
Boston, MA (PRWEB) May 31, 2012
To celebrate the first week of The Vintage Hen and the revamped HenCam, professional cook, food writer and animal lover, Terry Golson is hosting a Barred Plymouth Rock t-shirt giveaway sponsored by custom t-shirt printer Crooked Brook. The contest will close on Saturday, June 2 at 9 pm EDT.
This prize is a white, Gildan, G200 6.1 oz. Ultra Cotton® T-Shirt made in 100% preshrunk cotton, taped shoulder-to-shoulder with a seamless collar and double-needle stitching throughout and the image of a Barred Plymouth Rock chicken printed on the front.
Although the most popular method of printing t-shirts is screen printing, Crooked Brook t-shirts are printed using Direct to Garment Printing (digital garment printing or DTG) which is the process of using inkjet printers to print an image directly onto t-shirts without the use of screens like with screen printing, which requires a lot of setup e.g., creating screens for each color.
In addition, DTG printing uses eco-friendly, water soluble ink, unlike some screen printing methods that layer Plastisol (a suspension of PVC particles in a plasticizer) on top of the t-shirt. The only requirement for DTG printing is for the image to be high resolution, resulting in photograph quality printing with no setup fee or minimums for custom t-shirts.
About Terry Golson:
Terry Golson has always loved animals, and animals have always loved her. When she was five, she was given a guinea pig. When she was ten, a dog adopted her, and about a year later a cat jumped out of the woods and followed her home. For awhile, Terry rode horses for a living. But, she didn't get her first chicken until about 15 years ago, when a neighbor gave Terry a little hen named Buk-Buk. Terry has had a flock of hens ever since.
Terry has been a professional cook and a food writer. She has written for numerous publications, including The Boston Herald, and Cooking Light Magazine. In 1990, Terry's first cookbook, For Goodness Sake was published. It was a James Beard Award nominee. Later came Wholehearted Cooking and then 1,000 Lowfat Recipes. The Farmstead Egg Cookbook was published in 2006.
One special hen inspired Terry to create her first children's book, Tillie Lays an Egg. The animals continue to give Terry ideas. More children's books are in the works.
Terry maintains a live-streaming webcam on her flock of hens and on her pet goats. She also blogs about the goings-on at her Little Pond Farm (which is really just a big backyard!) Terry has been called a "chicken celebrity" and has become a well-known advocate for backyard poultry keeping.
Terry lives in a small town west of Boston with her husband, two sons, two dogs, a rabbit, two small goats, numerous (and rather unattractive) koi, and a small flock of hens. Watch a video of Terry and her chickens on the Martha Stewart Show and on NECN. Terry visits libraries and schools (with a live hen!) - check the Appearances page to see where she'll be next, and go to Contact Terry to schedule a visit to your school.
Golson has made numerous appearances all over the country, in settings a low key as a library ranging to places as renowned as The Martha Stewart Show.
About Crooked Brook
Crooked Brook is a unit of the atelier division of an art studio that offers full service apparel design, pattern making, sample making, private-label small lot production and embroidery. Since 1989, they've built a strong reputation of providing top-notch apparel designs, patterns, fit and production samples for many brand name catalogs and retailers, as well as wardrobe and costumes for movies, television and theater.
All Crooked Brook branded garments and accessories are proudly made to order in the U.S.A.
Because of their unparalleled attention to detail in tailoring, they were awarded a Supima® licensing agreement. These contracts are not awarded lightly. The applicants must meet requirements insuring the highest level of quality and integrity for any products bearing the Supima® brand.
In addition, Crooked Brook designs and manufactures:
Men's and women's chef coats and uniforms for the world's most recognized chefs, hotels, casinos, spas and resorts as well as alumni chef jackets for the Culinary Institute of America. Each garment can be personalized with the customer's choice of fabric, pockets, buttons, piping and embroidery. With a design studio in New York City, (the fashion and gastronomic capital of the world) and a production facility in Utica, New York, they've garnered international brand name recognition as the maker of the "World's Highest Quality Chef Jackets™".
Promotional products, items, decorated apparel and accessories, such as; jackets, hats, sweatshirts, hoodies, polo shirts, fleece blankets, sweatshirt blankets, button down shirts, fleece jackets, golf shirts, custom t-shirts, tote bags, and aprons that can be customized with the following apparel decorating methods:
Embroidery
Tackle Twill
Appliqué
Direct to Garment Printing (DTG)
Sublimation
Custom lab coats, uniforms and scrubs for nursing, medical, dental, scientific, engineering, technology & healthcare professionals.
Custom made apparel and accessories for men and women, including but not limited to: suits, shirts, Hawaiian shirts, pants, vests, dresses, skirts, gowns, jeans, boxer shorts, martial arts and yoga outfits.
Crooked Brook ships worldwide. Hours of operations are 7:00 a.m. to 7:00 p.m. EST, seven days a week. Reach them at (315) 733-1992 to learn more.