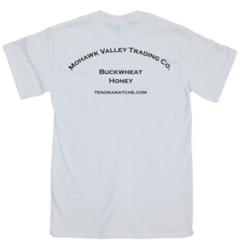 New York, NY (PRWEB) May 21, 2012
Mohawk Valley Trading Company is holding Buckwheat Honey T-Shirt Giveaway 1 on their LocalHarvest blog. The giveaway is sponsored by Crooked Brook and ends midnight (Eastern Standard Time) 05/27/12.
This prize is a Gildan, G200 6.1 oz. Ultra Cotton® T-Shirt made in 100% preshrunk cotton, taped shoulder-to-shoulder with a seamless collar and double-needle stitching throughout and the image of the Mohawk Valley Trading Company Buckwheat Honey label and URL printed on the back.
Custom t-shirts are one of the most inexpensive yet cost effective marketing tools available. One of the advantages they have over other promotional products is that wherever people wearing t-shirts with your logo on it go; your brand goes. It is a great way to convey your business image and build brand awareness.
Although the most popular method of printing t-shirts is screen printing; Crooked Brook t-shirts are printed using Direct to Garment Printing (DTG printing or digital garment printing) which is the process of using inkjet printers to print an image directly onto a t-shirt without the use of screens like with silk screening or screen printing. The only thing DTG printing requires is for the image to be high resolution resulting in photographic quality printing with no setup fee or minimums. DTG technology uses eco-friendly, water soluble ink, unlike some screen printing methods that layer Plastisol (a suspension of PVC particles in a plasticizer) on top of the t-shirt.
The winner will be chosen randomly, from those who post a comment on the Mohawk Valley Trading Company LocalHarvest blog with an answer to this question;
How do you like to use honey?
About Buckwheat Honey
Buckwheat honey has a deep, dark brown color, strong, pungent, molasses like earthy flavor and is high in mineral content and antioxidant compounds. If you are planning to buy buckwheat honey for its health-benefits, it must be raw buckwheat honey. Heating honey (pasteurization) destroys the all of the pollen, enzymes, propolis, vitamins, amino acids, antioxidants, minerals, and aromatics. Honey that has been heated and filtered is called liquid, regular or commercial honey.
The Mohawk Valley Trading Company
The Mohawk Valley Trading Company (MVTC) offers the highest quality organic and unprocessed natural products they can produce. Their raw honey and maple syrup is used and endorsed by two of by the world's most recognized chefs: Bobby Flay recommends the maple syrup and Tom Colicchio recommends the honey. Not only does Tom say their honey is one of his "Personal Pantry Essentials" and "Favorite Gifts" but he also keeps "a jar of the stuff on my desk at all times."
About Crooked Brook
Crooked Brook is a unit of the atelier division of an art studio that offers full service apparel design, pattern making, sample making, private-label small lot production and embroidery. Since 1989, they've built a strong reputation of providing top-notch apparel designs, patterns, fit and production samples for many brand name catalogs and retailers, as well as wardrobe and costumes for movies, television and theater.
All Crooked Brook branded garments and accessories are proudly made to order in the U.S.A.
Because of their unparalleled attention to detail in tailoring, they were awarded a Supima® licensing agreement. These contracts are not awarded lightly. The applicants must meet requirements insuring the highest level of quality and integrity for any products bearing the Supima® brand. In addition, Crooked Brook designs and manufactures:
Men's and women's chef coats and uniforms for the world's most recognized chefs, hotels, casinos, spas and resorts as well as alumni chef jackets for the Culinary Institute of America. Each garment can be personalized with the customer's choice of fabric, pockets, buttons, piping and embroidery. With a design studio in New York City, (the fashion and gastronomic capital of the world) and a production facility in Utica, New York, they've garnered international brand name recognition as the maker of the "World's Highest Quality Chef Jackets™".
Promotional products, items, decorated apparel and accessories, such as; jackets, hats, sweatshirts, hoodies, polo shirts, fleece blankets, sweatshirt blankets, button down shirts, fleece jackets, golf shirts, t-shirts, tote bags, and aprons that can be customized with the following apparel decorating methods:
Embroidery
Tackle Twill
Appliqué
Direct to Garment Printing (DTG)
Sublimation
Custom lab coats, uniforms and scrubs for nursing, medical, dental, scientific, engineering, technology & healthcare professionals.
Custom made apparel and accessories for men and women, including but not limited to: suits, shirts, Hawaiian shirts, pants, vests, dresses, skirts, gowns, jeans, boxer shorts, martial arts and yoga outfits.
Crooked Brook ships worldwide. Hours of operations are 7:00 a.m. to 7:00 p.m. EST, seven days a week. Reach them at (315) 733-1992 to learn more.