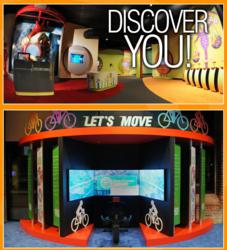 Charlotte, North Carolina (PRWEB) April 16, 2013
Discover YOU!, CaroMont Health's new interactive health and wellness center, opened to the public on January 19, 2013 in Mount Holly, North Carolina. The 5,000 square foot center features 17 interactive wellness-related exhibits provided by T1Visions.
From activity and nutrition to smoking cessation and stress reduction, Discover YOU! provides fun, immersive exhibits designed to educate visitors on leading healthy lifestyles. T1Visions' interactive touchscreens, and other eye-catching interactive technology offer adults and children hours of games and discovery that bring awareness to daily health choices and demonstrate the small steps that individuals can take to enhance their quality of life. These interactive exhibits convert physical input to a digital experience as visitors see their heartbeat reflected in a large 3D heart with projected animation or race to relax against each other at an exhibit that measures brain activity. T1Visions designed, engineered, and installed all software and hardware for Discover YOU!
The goal is for visitors to leave Discover YOU! informed and motivated to make lifestyle changes that improve their quality of life. CaroMont Health officials have designed the exhibit as a way to encourage healthier lifestyles, which lead to better managing healthcare costs.
"We spend trillions on healthcare," says Andrea Serra, Vice President of Wellness at CaroMont Health, "and when you look at those dollars, 75 percent is being spent treating chronic disease — 70 percent of which are preventable."
As many aspects of health and well-being are unique to each individual, Discover YOU! strives to provide a personalized experience. Upon arrival, visitors enter their name, height, and weight into a computer to receive a ticket. This ticket can be scanned at many of the stations, giving visitors the option to e-mail themselves information, such as the amount of calories burned while riding on the interactive spin cycle or recipes catered towards their nutritional needs. Families are free to play and explore the interactive exhibits knowing they can retain the information without having to exert their memory or take notes.
Discover YOU! is an important initiative that represents what is possible through the creative collaboration of healthcare professionals, technologists and designers. It is a model of how progressive wellness programs around the country can further improve their reach into the communities they serve. T1Visions is committed to providing innovative technology-based solutions such as digital displays in the healthcare space that engage, educate and entertain users.
About T1Visions
T1Visions, LLC is technology company based in Charlotte, North Carolina that has been developing solutions for large format touchscreens designed for use in social and public settings since 2008. This includes proprietary software, patent pending features, and hardware. T1Visions is pioneering the use of large-format touchscreens at competitive prices for practical applications in healthcare, corporate, education, retail and hospitality markets.