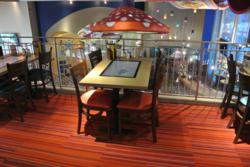 Chicago, IL (PRWEB) May 16, 2013
T1Visions, a leader in interactive displays, will be attending the 2013 National Restaurant Association show in Chicago May 18-21. T1Visions will be showcasing their inTouch™ Interactive Display technology at the show and will debut several new product features and a new Smartphone application.
Since 2007, T1Visions has been a pioneer in the delivery of large-format multiuser interactive touchscreen solutions to the hospitality industry. T1Visions' technology has quickly caught attention and praise in the hospitality market, enabling guests to order food and beverages directly from their table, experience rich, multimedia entertainment and play engaging digital games directly from large format multitouch screen seamlessly embedded into a tabletop. T1Visions' software can be personalized with customer-specified, branded content and graphics and customers can also choose from a suite of hospitality applications including Electronic Ordering, Media Viewer, several multitouch games, an AirConnect™ feature that allows users to send content from their mobile devices to an inTouch table, and much more. The intuitive multitouch user interface uses patent pending technology allowing restaurant guests to split the screen at the tap of a button into one, two, or four person mode based upon the number of users. Multiple guests can engage with different applications simultaneously, allowing for both individuals and groups to have a unique, immersive experience. With engaging applications and stunning visuals, T1Visions' inTouch technology provides guests with a unique dining experience, yielding increased table revenue for restaurant operators.
Even waiting can be fun with T1Visions' new interactive QueView™ wait management system. This system includes an easily customized application that allows customers of participating venues to track their wait on their smartphone and integrates with third party table management software, as well as a large screen with graphics that change to reflect wait time. QueView will make its first tradeshow debut at the National Restaurant Association 2013 Show with a demonstration of the app designed for The Cowfish Sushi Burger Bar restaurant featuring customizable cartoon fish in a virtual tank and integrated with Nextable table management software.
Stop by booth #9030 to learn more about T1Visions inTouch products and see the QueView application in action.
About T1Visions
T1Visions, LLC is a technology company based in Charlotte, North Carolina that has been developing solutions for large format touchscreens designed for use in social and public settings since 2007. This includes proprietary software, patent pending features, and hardware. T1Visions is pioneering the use of large-format touchscreens at competitive prices for practical applications in healthcare, corporate, education, retail and hospitality markets. For sales inquiries, contact sales(at)t1visions(dot)com.