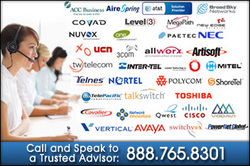 T3 lines have become much more affordable in recent days. Stiff competition among telecommunication providers and an economic recession have worked together to push prices down.
Los Angeles, CA (PRWEB) July 11, 2010
SolveForce is pleased to announce that Internet users and businesses can now obtain T3 Internet Line connections at much lower costs due to carrier services rivalry and depressed economic times. T3 lines are one of the fastest connections available, after only Optical Carrier Circuits and Ethernet Connections.
One of the most important aspects of doing business in this modern era is the speed with which data can be transferred from one place to another. A T3 line transfers data at speeds up to 45 Mbps (Megabits per second) symmetrically. This is the minimum recommended connection speed for companies dealing with secure data intensive transactions with many transmissions.
As technology has advanced and faster speeds have become available, the T3 line is setting the new standard for business Internet connection speeds. When compared with the old data technology pricing, there is no comparison whatsoever. The good news is that T3 connections are now available all over the country. Even if one can not get a wired Internet connection, wireless internet is available anywhere there is a clear view line of site. This connection can run at T3 speeds as well.
For more information about T1 Line Connections, T3 Connectivity, Metro Ethernet, Fast Ethernet, GigE, Optical Fiber Providers, and how affordable these services are becoming, everyone is encouraged to visit http://www.solveforce.com. Members of the press and/or other interested parties may also obtain more information about this company and/or the content of this press release by contacting 1-888-765-8301 today.
###