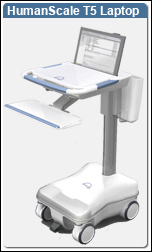 Troy, MI (PRWEB) June 27, 2006
Humanscale Healthcare announces that the T5 Point-of-Care Technology Cart, engineered in association with BMW/DesignWorksUSA, is now available from their exclusive partner EnovateIT, the nation's leading provider of mobile wireless solutions and a premier global systems integrator for healthcare. The result of extensive R&D, the T5 improves clinician health and comfort on the job, while enhancing workflow, patient care and return on IT investments.
Humanscale Healthcare is a division of Humanscale, the world's largest manufacturer of ergonomic and easy-to-use products for the computerized workplace. Because of Humanscale's commitment to and understanding of ergonomics, the T5 cart meets the adjustability requirements for 99% of users in both sitting and standing applications.
Featuring optimal stability, sleek award-winning aesthetics and effortless adjustment, the T5 has one of the smallest mobile point-of-care footprints, measuring just 16.5" W x 20.5" D. It is also, by far, the lightest cart on the market. Its light weight, push/pull handles accessible from three sides, and casters designed to cross hard and carpeted floor surfaces make the T5 far easier to move than all other point-of-care carts.
The T5 cart offers unprecedented flexibility for each user in a shared work environment, with separate height adjustments for the work surface, keyboard support, and display. The keyboard tray and mouse surface optionally incorporate the world's best-selling adjustable keyboard system for optimal comfort and ease-of-use. It offers a 0° to -15° keyboard tilt for low-risk keying posture, an easily adjustable mouse surface for left or right-handed users, and a Technogel® palm support with wipe-able, anti-microbial cover to help reduce risk of cross-contamination.
A unique security system locks all computer equipment to help protect against theft, and the unit is designed to provide superior spill protection for notebooks. The front locking casters offer additional safety and security.
The cart was designed with precise attention to detail including a built-in work surface with inset to keep objects from falling, multiple storage drawer options including security and partitions, and a utility container positioned for accessibility.
The T5's internal power system provides reliable mobility. Available with a 40 amp / hour battery and 3 AC outlets, the T5 will provide many hours of continuous use between chargings. The built-in lockable storage unit for an optional lithium battery is enhanced with an easily visible power gauge. The 10' retractable, medical grade power cable system can be easily accessed for charging and cord management. The power system features on-the-go recharging that facilitates workflow efficiency. In addition, the battery is readily accessible for easy replacement.
The T5 is made primarily of aluminum, with steel and plastic components. More than 50% of the T5 (by weight) is made of recycled materials, and approximately 95% is recyclable. All surfaces are durable and easy to clean. Available in a selection of finishes, the T5 is built to last and is offered with a five-year warranty on all parts except the Power System (one-year).
For more information about the T5 Technology Cart, please visit http://www.enovateit.com.
About EnovateIT, LLC
Headquartered in Troy, Michigan, EnovateIT is a leading provider of mobile wireless solutions and a premier global systems integrator for healthcare. With more than 40,000 installations in over 800 healthcare facilities, EnovateIT provides secure cost effective mobile solutions for medication delivery systems, computerized physician order entry, clinical documentation, and electronic medical records systems. EnovateIT not only offers the products to facilitate wireless information solutions, but also the services and support to make it a reality. Visit EnovateIT at http://www.enovateit.com or call 248-655-0548.
About Humanscale Healthcare
Humanscale Healthcare designs and manufactures ergonomic products for easier usage of today's technology and a more comfortable, safe and efficient environment for the caregiver. A division of the Humanscale Corporation, the world's leader in ergonomic design with sales of $124 million in 2005, Humanscale Healthcare brings to the healthcare market a unique understanding of the importance of ergonomics in the workplace.
From the T5 Point-of-Care Technology Cart to the Freedom chair and M7 Flat Panel Monitor Arm – each product is designed to improve the health and quality of work life. Humanscale's products for work and healthcare environments follow the belief that if a design solves a functional problem as simply and elegantly as possible, the resulting form will be honest and timeless.
Humanscale Environmental Statement
Humanscale is committed to sustainability and environmental conservation, which guide our choices in product design, manufacturing and packaging. Recycled and/or recyclable materials account for approximately 85% (by weight) of all materials in Humanscale products shipped in 2005, and our packaging contains approximately 40% recycled content. In addition, Humanscale is a proud supporter of World Wildlife Fund, and our founder and CEO, Robert King, has served on WWF's National Council since 1999.
# # #